Please note: hyperlinked film titles are for reviews on the Main site; a hyperlinked "(M)" denotes review at KQEK.com Mobile
.
"Eros" is the buzz-word, or the veiled nomenclature, for things smutty-but-artistic, and it was likely conceived so adults could discuss dirty things without actually feeling guilty.
For example, a conversation could take place on a bus, and if one maintained an ongoing use of 'veiling' terminology, one could discuss the dirtiest act imaginable, and only those-in-the-know would know what you knew, while everyone else was safely potected by an invisible sheet of textual pureness (Catholic guilt?), knowing nothing.
During the seventies, the puritanical streak in American films more or less meant erotica appeared as an ingredient in exploitation films, softcore, and hardcore.
In Canada, Quebec more or less represented the country's risque output which fizzled out by the mid- seventies, although one could include France-Canada co-productions, and maybe the odd tax shelter film. Note: Circle of Two does not count.
In Italy, erotica appeared in a fairly broad range of soft, hard, sexploitation, eurosleaze, and comedic films, but in Japan, the restriction against showing pickles, beavers, and any activity between the lower naughty bits would've yielded films whose core eroticism was neutered, so the alternative was to riff European sub-genre streams like naughty teachers, naughty students, naughty prostitutes, and a few storylines and perspectives that weren't exactly politically correct.
Impulse Pictures have been releasing rare erotic films for the past few years – the wacky German Schoolgirl Report series, Swedish meatball classics like Anita (1973)  – and their latest cultural foray is the Roman Porn series, begun by Japanese studio Nikkatsu to get adult posteriors back into theater seats.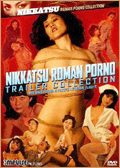 Kick-starting the DVD wave is The Nikkatsu Roman Porn Trailer Collection (M), featuring 38 trailers of naughtiness, plus a bonus feature. (The first titles in Impulse's new wave of feature-length classics will be Female Teacher: Dirty Afternoon, and Debauchery.)
Leaping back to Italy, the sex comedies of the seventies live on via the (geuinely) inimitable persona of Tinto Brass, and wonders behold, Tinto has gone digital!
His first HD film (via Cult Epics) is Monamour (M), made in 2005, and looking far more filmic than the indie horror shocker The Rig (M), made in 2010, and reviewed this past weekend.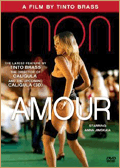 How is it that Brass, the king of the posterior, emperor of the round rumpty-dumpty, spiritual leader of unfettered nethers, and iconoclast of the bountiful bum-bum can make an inventive movie experience that betters the efforts of younger, hungrier emerging filmmakers schooled in the latest gear?
Because he's a filmmaker [who succumbed to the erotic bug during London's Swinging Sixties], a veteran of Italy's New Wave [who went rogue], and a striking editor whose concept of montage is rooted in the rule-breaking techniques of Godard, if not the abstract and impressionistic brilliance of editor Franco Arcalli (with whom he worked on Deadly Sweet).
Eros is fun, silly, provocative, and really, really educational. The reviews support these facts with irrefutable evidence, and as we've learned today, Eros has artistry.
Ahem.
.
.
Mark R. Hasan, Editor
KQEK.com
Category: Uncategorized