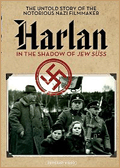 Time is tight today, so I'll actually forego the usual editorial blather and direct you to a review of Felix Moeller's Harlan: In the Shadow of Jud Suss [M] (2008), released last fall from Zeitgeist Films.
Who was Veit Harlan? In short terms, a star director during the Third Reich  – he directed the last film produced under Goebbels' watch, Kolberg [M], in 1945 – and later a disgraced filmmaker after he refused to accept any blame, nor make apologies for helming the anti-Semitic film Jud Suss in 1940.
Moeller's doc is more about how the specter of that film, if not Harlan's career and stature as an artist, affected family members, and whether the infamous film is as racist and dangerous as some historians claim.
In addition to interviews with all of Harlan's surviving children – including the late Thomas Harlan, Maria Korber, Jan Harlan, and Christiane Kubrick – the extras include a lengthy interview with filmmaker Alexander Kluge, and an additional interview with Harlan's granddaughter Jessica Jacoby.
Some critics have found Moeller's doc half-finished, or a half-examination, with insufficient attention given towards the elephant in the room, so I've added a review of Jud Suss [M], which is available on DVD in the U.S. with extra historical materials and an audio commentary.
Coming next: ridiculous monster movies, and a review of bubberfilm The Chase (1966), which screened yesterday at the Tiff Bell Lightbox as part of their salute to Arthur Penn.
.
.
Mark R. Hasan, Editor
KQEK.com
Category: Uncategorized