Sometimes DVD labels play off each other's release schedules and time like-minded titles to ride the wave of bigger ones, but I'd like to believe the release of three classic films penned by William Rose from three separate companies was pure coincidence – and a nice one to boot.
Twilight Time just released a DVD of The Flim-Flam Man [M] (1967), where George C. Scott almost – almost – chews the scenery playing a wily conman named Mordecai Jones who takes on an assistant named Curly, played by a young and lanky Michael Sarrazin. Their plans of enacting perfect cons without any emotional ties to their marks gets fubared when Curly falls for a pretty young thing, played by Sue Lyon.
Lyon was finishing off her A-level film career before disappearing into fast obscurity in TV and the odd feature during the seventies – just 5 after making an auspicious debut as the naughty eponymous character in Stanley Kubrick's Lolita [M] (1962).
Sarrazin was an up-and-coming talent who made good in several important films – They Shoot Horses, Don't They? (1969) being his most prestigious – before he returned to Canada in the eighties, and looked general tired and bored, wasting his talents in utterly mediocre TV and film productions.
Director Irvin Kershner would slow down his output, but make a few notable films, including the TV movie Raid on Entebbe (1976), the creepy Eyes of Laura Mars (1978), and some little-known, often overlooked drama called Star Wars: The Empire Strikes Back (1980).
Composer Jerry Goldsmith was just getting started with his film career, and the next major works in the immediate 3 years include Planet of the Apes (1968), 100 Rifles (1969), Patton (1970), Tora! Tora! Tora! (1970), and Rio Lobo (1970).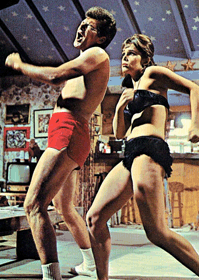 Not bad pedigree, but the core to the film's success was Rose's adaptation of Guy Owen's novel.
The script is memorable for fast, dynamic prose, memorable characters, and an elaborate car chase that was a throwback to the elaborate slapstick gags Rose perfected in his comedic homage to the genre, the magnum Cinerama opus It's a Mad, Mad, Mad, Mad World [M] (1963), which boasted a massive cast of iconic comedians from live TV, and where director Stanley Kramer proved he actually possessed a sense of humour after producing serious social dramas for about a decade.
MGM recently released a Blu-ray of Mad, although it's another one of those Wal-Mart exclusives. Apparently the HD transfer is very lovely, but apparently the title is available in the U.S. only. Why does Wal-Mart hate Canadians?
I've reviewed the OOP 2001 DVD, which features a still-decent transfer of the film, plus the extras that MGM dumbly dropped from their 2003 reissue – most likely a cost-cutting move to mass-produce the budget release using even cheaper DVD stock.
Also reviewed is one of the films upon which Rose, an American, built his career: the classic British comedy Genevieve [M] (1953), which VCI just released this month on DVD and Blu-ray (the latter unique to North America, for now).
Genevieve is one of those films which illustrate the changing curve of good taste and smartness that befalls a person as he / she grow older. The first time I saw the film was on TVO, via Elwy Yost's Saturday Night at the Movies. I was in my early teens, the film seemed slow, and I was bored to death.
Nearly 30 years later, I watched the film for the first time in as many years, and was stunned at what a perfect little movie Rose created. Brilliant (and very British) script, superb performances by a quartet of character actors / stars, fine direction, and a lovely score by Larry Adler.
If I had to be stranded on an island, I'd want Genevieve to be among the films I could watch again and again. It's funny, slyly adult, and deeply charming, and the character of Wendy McKim is hot (as enlivened by actress Dinah Sheridan).
Each of the reviews addresses some of Rose's great skills as a writer, but as with any good script, it only comes to light when the right elements are in place. In each of the three films, the directors were committed to making the best film they could, and the actors recognized they were tied to some very special writing.
In a future Part II, I'll take a look at Rose's other work (take a glance at his C.V., and you'll note several highly regarded classics), but here's one question for any historians out there:
DVD Savant recently reported the complete catalogue of the Cinerama films – including Windjammer: The Voyage of the Christian Radich (1958) are being digitally restored, with David Strohmaier heading the initiative.
Strohmaier is best-known for his great documentary Cinerama Adventure (2002), which Warner Home Video included with their How the West Was Won (1962) Blu-ray set. Apparently the plan is to make film prints available for true Cinerama exhibition, as part of the widescreen format's 70th anniversary, plus HD versions in Strohmaier's SmileBox format for home video.
I love the fact these films are finally getting their due after circulating for years as partial prints and bootleg DVD copies, but it is a pity there are no surviving Cinerama screens in Canada. We had some. Once.
So here's the question: with an interest in true Cinerama films yielding actual restorations, any chance someone's attentive eyes (and pocketbook) might focus on Rose's pre-Mad widescreen epic, Scent of Mystery (1960)?
The film was released in Michael Todd, Jr.'s silly Smell-O-Vision format, bombed at the box office, was sold to Cinerama, chopped into 3 panels, and exhibited as Holiday in Spain in a shorter version, after which it vanished.
The soundtrack album is available, not to mention various ephemera and blogs & posts of people who experienced the odiferous film, but Scent has vanished from circulation, save for isolated reports of rare screenings, such as this one from 2004.
Rose co-wrote the thing, and within his C.V., it probably forms a bridge between his light comedic dialogue, characters encountering misadventures en route, and sprawling comedy in a wide film format (not to mention Diana Dors in 70mm).
Up until last year. all that anyone could see were two crappy clips archived on YouTube, both now gone.
Co-written by William Rose, directed by Jack Cardiff, and released in 70mm.
No one is expecting brilliance, but given the film's notoriety, why not save it before it disappears as  a lost oddity of film history?
.
.
Mark R. Hasan, Editor
KQEK.com ( Main Site / Mobile Site )
Category: EDITOR'S BLOG, FILM REVIEWS