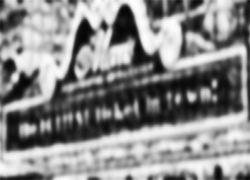 Forbidden Places has a great page on this Art Nouveau theatre that was built between 1910-1913, and has remained derelict since 1986. Efforts to restore this poured concrete edifice have apparently floundered, and it remains a home to pigeons.
A photographer gained permission to enter the theatre with a video crew in 2004, but it's his lovely photos that reveal the swerving lines, thin metal railings, narrow seating steps, and faint remnants of coloured walls and moldings that give a hint of this gem's former décor.
The interior's been stripped down to its concrete superstructure, but one can imagine it filled with nattily dressed patrons, either for a theatre show, or the movies, since it was also outfitted with an Italian projector.
To view the stills at Forbidden Places, click HERE. It's also worth examining the video link on the page (French only), and reading some of the comments.
Further details of the interior – surviving wall colours, bathroom floor tiles, stairwells, light pools – are at Friched.net, taken in 2005, and there's a shot stills montage on YouTube (archived also at http://www.photurbex.magix.net/), taken in 2010.
.
.
.
Mark R. Hasan, Editor
KQEK.com
Category: EDITOR'S BLOG