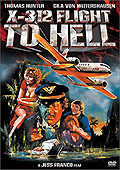 Film: Very Good
Transfer:  Good
Extras: n/a
Label:  Image
Region: 1 (NTSC)
Released:  August 12, 2003
Genre:  Action
Synopsis: Survivors of a plane crash must trek through the Brazilian jungle to reach safety.
Special Features:  (none)
---
Review:
Within two years, Jess Franco directed 8 films for prolific producer Artur Brauner, including the Soledad Miranda diptych Vampyros Lesbos and She Skilled in Ecstasy, but few of the remaining films during that period have migrated to DVD, let alone on Blu-ray. X-312 Flight to Hell represents another quick & fast genre picture which sounds intriguing, but it's a mixed bag of material.
The story featuring non-stop double-crossing characters is largely sound, if not ambitious for Franco; unlike his erotic thrillers, the director had to balance a plane crash, a lengthy jungle trek, a greedy harem leader / neo-terrorist, man-eating alligators, and de rigeur boobery.
American exp-pat Thomas Hunter appeared in several German and Italian productions, and he looks the part of cynical reporter Tom Nilson, who takes a flight with a corrupt a banker (Siegfried Schürenberg) hoarding $3 million in chintzy jewelry, a Chilean playboy (Hans Hass Jr.), countess Anna Maria Vidal (Esperanza Roy), a babe and her stuffed teddy bear (Gila von Weitershausen), the last member if a dying aristocratic line and his pooch, a blonde bimbo (Ewa Strömberg), and a flight attendant (wonderfully slimy Fernando Sancho) whose greed is fueled by his hunger to transcend being the son of a whore.
When an assassin's attempt to commandeer the plane goes topsy-turvy, the Brazilian charter plane headed for Mosquitos crashes into the jungle, and the survivors must trek to their destination by foot using a 'feel for direction' instead of a compass. The entire saga is bookended by Nilson recounting the ordeal into a tape recorder, which he stows in his office as insurance lest the plane's other survivor enforces a lethal double-cross.
For a stark B-movie – and a Franco film in general – the size of X-312's cast is unusually large and diverse. In the film's steady but moderately paced first third, each character is given a quick backstory courtesy of Nilson, as he recounts each of his fellow travelers prior to the catastrophic crash. Manuel Merino's cinematography is mostly in focus, and there are a few artful shots which suggest Franco may have grabbed the camera and filmed foliage and what resembles backlit balls of tumbling cotton for an arty interlude.
X-312 is ridiculously zoom-happy; it's an effective tactic Franco may have used to to conveying chaos as the plane nosedives at perilous velocity, but it also masks the production's thin budget. After a mass of effective quick cuts, we join the shocked survivors as they 'escape' (walk) from a mildly smoldering plane resting on a recently mowed lawn.
The film's savior may well have been editor Carl Otto Bartning, who juggles shots to evoke coherent chaos, and cuts reactions, suspicious glances, and gunfire with particular sharpness. In his second-last feature film before retiring, the veteran editor minimizes the effect of Franco's abrupt scene jumps, such as the sudden slaughter of wandering junta warrior babes who aren't especially relevant to the plot, and the sudden appearance of an cannibalistic Amazon tribe that's weirdly grand in scale – Franco was blessed with a great location and numerous extras – but it's completely underused; the death of the character could've been meted out by getting brained by a boulder, or drowning in a river.
Score-wise, it's highly doubtful Bruno Nicolai actually scored the film – the cues sound like a mish-mash of orchestral stock material culled from very different films due to the strikingly different instrumentation, and spastic smash cuts to Franco's favourite diom, jazz. The recurring jungle trek cues are either modernistic (Nicolai) or stock, and credited co-composer Wolf Hartmayer may have been brought in to write the ditsy source cues which play from the blonde bimbo portable radio, powered never-draining Duracells..
The jungle terrorists are led by "Pedro" (Howard Vernon, drecked in South American shoe polish #12, and a glued-on mustache leftover from a western set in revolutionary Mexico), and his appearances are limited to an early intro dominated by fondling the breasts of his first lieutenant and bed-mate, Lolita (unbilled Beni Cardoso), and the finale in which he pushes for some girl-girl action before dismissing Lolita, and taking a crack at Anna Maria Vidal himself.
There's gunfire, TNT, and knife injuries in a final briskly edited action sequence that's a very pleasing payoff after numerous gaping continuity lapses: the jungle grass is neatly mowed; the actors pretend to slash through dense foliage when the ferns are barely waist-high; and an anxious swim across a river is clearly actors struggling to evoke a bottomless body of rushing water that's just a muddy stream less than 2 feet deep. Franco may well have staged the bulk of the film in the garden and wading pond of a tourist resort.
Whether curated by Franco or mandated by X-312's producer & director, actress Roy has a preposterous nude scene in a real river. She splashes joyously in the rapids, kicking up feet / raising arms in a  Voila! pose, and ensuring her mammaries are 200% clean. The nudie-cutie moment comes to an abrupt end when her towel-drying is interrupted by a snake, and a single deadly shot from Nilson's rifle that kills the serpentine interloper.
Although Gila von Weitershausen is co-billed with Hunter, the actress' role is pure nonsense; she giggles & sings, laughs & cuddles with Carlos and her teddy, but she's the least memorable among the three female characters. Strömberg is just a doomed sexpot, but Roy emerges with a superior character arc as she evolves from giggling bather to a femme fatale, closing the film in a very satisfying wrap-up.
X-312 isn't a great B action-thriller but it is lots of fun. It's also striking to see Franco proficiently handling a mildly layered story with multiple characters vs. the late-career intimate films that featured a handful of human chess pieces in sexed-up dramas and generic collisions.
Image's DVD features a non-anamorphic, sorta letterboxed 1.66:1 transfer with tacked-on End Credits for the German release. The German overdubbing among the English, German, and Spanish actors is pretty fair, especially Hunter, who sometimes seems to be saying his lines in German. The English subtitles are fine, and although a bare bones release, it's an acceptable stopgap until X-312 film gets a deserved Blu-ray release.
Films produced by Artur Brauner and directed by Jess Franco include Lucky, el intrepiso (1967), The Devil Came from Askava (1971), Vampiros Lesbos (1971), X-312 Flight to Hell (1971), She Killed in Ecstasy (1971), Jungfrauen-Report (1972), Robinson and His tempestuous Slaves (1972), Der Todesrächer von Soho (1972), and Dr. M schlägt zu (1972).
After a modest career acting in European productions, Thomas Hunter also co-wrote Edward Dmytryk's The Human Factor (1975), and the sci-fi classic The Final Countdown (1980).
© 2020 Mark R. Hasan
---
---
External References:
Editor's Blog — IMDB  —  Soundtrack Album — Composer Filmographies: Bruno Nicolai / Wolfgang Hartmayer
 
Vendor Search Links:
Amazon Canada
—  Amazon USA
—  Amazon UK
---
Category: Blu-ray / DVD Film Review