The Italian giallo is rooted in the twist mysteries by Agatha Christie, an obsession with the preparation and execution of murder within Alfred Hitchcock thrillers, the investigative subplots of German krimi films, and lurid mystery novels which Italian publishers wrapped in yellow-clad covers (hence the giallo / yellow nomenclature), but in the last couple of years, a sub-genre known as the Spanish giallo has made long-delayed debuts in North America.
If the giallo was cast with primarily Italian actors plus exotic European and the odd American or British import, the Spanish stream was largely local, giving prominence to the country's talent pool, and Spain's own extraordinary landscapes, coasts, cities, and architecture.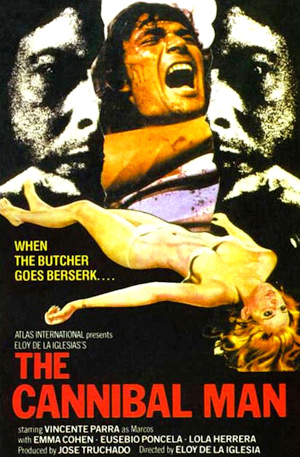 Vinegar Syndrome's released three volumes in their Forgotten Gialli multi-film compendiums, whereas Severin Films have chosen to spotlight writer-director Eloy de la Iglesia, best known for the luridly titled Cannibal Man / La semana del asesino / Apartment on the 13th Floor (1972), and that graphic poster art which you just can't stop ogling.
I've paired this unjustly infamous shocker – which fans of the serial killer genre will find quite contemporary – with No One Heard the Scream /Nadie oyó gritar (1973), a Hitchcockian-Bavalicious riff, two hugely enjoyable thrillers with very different tonalities. One does in fact feature an unfortunate victim being cleavered, while the other shifts from cadaver disposal to the evolving relationship between the killer and his unlucky accomplice.
Severin's Blu-rays include detailed featurettes with genre historians – pretty mandatory additions that tease us for more entries, and contextualize the unusual career of de la Iglesia. He's described by one as not being a great filmmakers per se , but a skilled auteur who worked in subtle and frank elements of political critique, spotlighting social taboos, and provocative sexuality during Spain's Franco era, which seemed to allow a degree of profanity as long as sacred elements remained intact before the end credits.
Both films star former screen idol Vicente Parra, and the latter Carmen Sevilla, two maturing actors who gave their respective roles deserved gravitas in these delightful gems.
Thanks for reading,
Mark R. Hasan, Editor
KQEK.com
Category: EDITOR'S BLOG