Yes, that last post was a bit of a downer, but I hope it illustrates why some financial cutbacks toyed by a city have consequences, and what seems like a boondoggle actually provides a needed service when nefarious are easily picking people off for their own lazy kicks.
So, from TTC buses, vintage music players and losers we move on to the latest pair of reviews related to, er, smut – or erotica, which is a much nicer way of saying 'films that provoke happy responses above and below the belt' for some.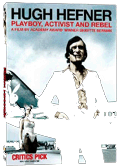 Hugh Hefner: Playboy, Activist and Rebel [M] (Phase 4 Films) isn't actually smutty, but it's an amusing, if kind of one-sided portrait of Playboy founder Hugh Hefner, the publishing pioneer who helped make it safe for boobery to flourish through the U.S. postal system, and found the right chemical formula to blend the uncanny combination of naked women, literature, comics, art, and essays on social & political topics.
Maybe the art and serious stuff was a teaser for the law – 'See? We're a real magazine!' – but the approach legitimized smut on the magazine stand, even though Playboy and its raunchier imitators were generally placed way back in the nosebleed row of the magazine rack. (I used to work in a book store, and it was a pain removing and restocking the titles.)
Using the mag's first issue with the famous Marilyn Monroe centerfold picture, there are two straight thoughts in Brigitte Berman's doc: the image was a rapturous celebration of the healthy female form, or debasing smut, and it's amusing (to some, like myself) that almost 60 years later, that image which caused a scandal and appalled conservatives is now available via a simple mouse click. (Note: you will see bare boobies if you venture here, so you'd better be an adult in your realm, or at least European.)
Hefner is as iconic as his magazine (not to forget the term centerfold), but where director Berman also stops short is addressing the current problem of the mag's viability as a print and online publication, and whether the proceeds from the Playboy brand is enough to keep the company solvent for another 60+ years.
Also reviewed is the first Radley Metzger film to be released on Blu-ray.
Fans of the erotic director who blurred the lines between drama and adult-styled content in the sixties and seventies with characters and stories taken from literary sources will be thrilled his films are finally making their way to home video in proper high-def transfers.
Synapse Films made the first real jump around 2002 when they released The Image (1976), which marked the first time the negative of one of Metzger's films was sourced for a home video transfer. I interviewed Synapse's Don May [M] soon after that DVD's release, and he discussed the challenges in convincing the director to loan the negative, as well as be open to really preserving his work.
Moreover, there were probably rights issues that kept the other classic titles away from HD transfers. First Run Features released the bulk of Metzger's output, and later repackaged them in 3 separate boxed sets. Eventually they went out of print, and Cult Epics apparently picked up the rights to get the ball rolling.
Score [M] is the first of their BR editions (the film's also available on standard DVD), and it includes Metzger's first commentary track – a big step to preserving a pioneer's personal experiences in the exploitation / erotica / art house world during its blossoming period (sorry).
The next titles will be The Lickerish Quartet (1970) and Camille 2000 (1969), which should look incredible in HD after years of generally mediocre DVD editions.
Big hope: isolated score tracks, because Stelvio Cipriani's Lickerish score has ever been released, and perhaps the tracks for Camille might yield more of Piero Piccioni's organ-drenched score (even though it did receive a superb CD release via Italy's Easy Tempo label).
.
.
Mark R. Hasan, Editor
KQEK.com
Category: Uncategorized