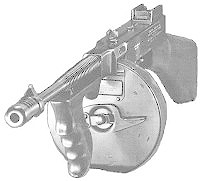 Here's a slightly different spin on reviewing TCM's latest group of classic films sets: along with reviews of one pair of classic gangster films, I'm adding either a contemporary classic whose roots lie in Warner Bros.' vintage 'torn from the headlines' crime films of the thirties, or a title you may have missed because the local distribution channels missed it, or it's been forgotten for whatever silly reason.
Here's a case in point:  the first pair from TCM's Greatest Gangster Films Collection (Warner Home Video) are Little Caesar [M] and Smart Money [M] – both from 1931, and both superb in spite of being in black & white, mono, and made 80 years ago.
Chief reasons to catch these gems: Edward G. Robinson's extraordinary performances, and the meanness and naughtiness that vanished once the vile Production Code became law in 1934, disallowing all kinds of behaviour, dialogue, visuals, inferences, and things we completely take for granted today.
Tied to the two classics is Gangster's Paradise: Jerusalema [M] (Anchor Bay), Ralph Ziman's 2008 'inspired by true events' crime drama based on a real-life figure who managed to snooker abandoned apartment buildings from landlords during the eighties in Hillbrow, the once crime-drenched inner city of Johannesburg, South Africa.
Originally released as Jerusalema, the film may have been overshadowed by the Oscar-winning success of South Africa's other recent gangster film, Tstotsi (2005), but it shouldn't be overlooked.
Ziman shot a film no one wanted to finance using old Soviet-era film cameras in dangerous locations in and around Hillbrow, and it's a compelling update on the Little Caesar template of a kid who becomes a thug, thief, gangster, slum lord, and eventually must fall from grace.
I've posted reviews of the films and their extras (including vintage short material on the Warner discs), and the next pair of gangster films will also be accompanied by another South Africa crime film.
.
.
Mark R. Hasan, Editor
KQEK.com
Category: Uncategorized