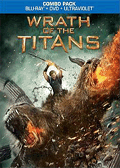 Just uploaded is a review of Wrath of the Titans [M] (Warner Home Video) on Blu-ray, a meh sequel with some serious flaws counterbalanced by some imaginative and rather ravishing visual effects, plus related material – soundtrack reviews for Danny Elfman's Men in Black 3 [M] (whose film will likely do better on video than its abbreviated theatrical run), and Henry Jackman's surprisingly fun Abraham Lincoln: Vampire Hunter [M] (both albums released by Sony Classical).
In quick soundtrack news, Intrada's followed up their James Horner Wolfen CD (which I reviewed for Rue Morgue) with Craig Safan's rejected score, which was previously released as a composer promo more than a decade ago. Safan, a composer better known for his melodic synth-fusion scores (Remo Williams: The Adventure Continues, The Last Starfighter) than orchestral writing, wrote a gnashing orchestral score the film's bigwigs didn't like, hence the recruiting of Horner to rescore the film with a more thematic-centered work.
Intrada's also released what I thought was the impossible – a 2-CD set featuring music from Leith Stevens' War of the Worlds and When Worlds Collide, plus Nathan Van Cleave's Conquest of Space and Daniele Amfitheatrof's The Naked Jungle. This all means Paramount's opening their vaults a bit more and letting the soundtrack labels release additional Golden Age sci-fi scores. When the set arrives I'll dutifully do a comparison with the old Tsunami CD, the Quad LP, and the laserdiscs which featured isolated score tracks (actually, M&E mixes) of Stevens' WOW and WWC scores.
Additional Stevens music is also available from Kritzerland Records, via I Married a Monster from Outer Space (of which some of the stock music is by Stevens) and The Atomic City. I just filed reviews for that double-bill disc, plus Dana Kaproff's When a Stranger Calls and Paul Glass's Lady in a Cage – all strong works finally getting their due on CD.
Fly fans should also take note the label's reissued a pair of scores previously released by now-defunct Percepto Records – The Fly + The Fly II by Paul Sawtell & Bert Shefter.
Lastly, Disques Cinemusique's latest double-bill album features Miklos Rozsa's A Time to Love and a Time to Die (previously released on CD in Japan in mono, and on LP via Decca & later Varese in Bullshit Stereo if memory serves correct) and the Frankenland State recording of Rozsa's Lust for Life Suite (which is in true stereo). The latter suite was released as a promo LP with additional music from other Rozsa films, and reissued by Decca and Varese.
Speaking of Vincent Van Gogh (the subject of Lust for Life), the BBC news recently broadcast a piece where two authors alleged the master painter didn't kill himself, but rather covered up his own murder. Confused? Read the piece or watch the video.
And speaking of art, Torontoist recently ran a piece on street art of a protest kind, where blah Astral ad pillars were given a slight overhaul by creative rebellious minds. If you flip to the last image, you'll also marvel at the trapped bicycle display.
Sorry for the erratic posts, but a chunk of time's been spent researching and sourcing vintage video gear for a series of short video projects. You see something listed, you try & track down info, you try and make sure what you ultimately buy is sound & functional, and then it arrives – either faithful to the original seller's claims… or perhaps not.
Once the last component arrives, I'll run a few blogs as sort of buyer's guides on vintage prosumer tube cameras, as well as some of their unique features with test footage. I'll also post scans of unavailable manuals so those interested in the same gear are armed with needed info before hitting the Buy button.
.
.
Mark R. Hasan, Editor
KQEK.com ( Main Site / Mobile Site )
Category: EDITOR'S BLOG, FILM MUSIC, FILM REVIEWS