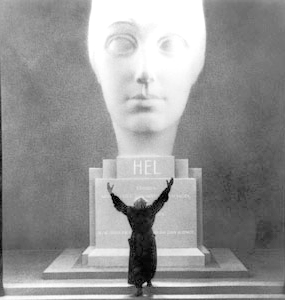 Although KINO's DVD and Blu-ray contain an hour-long documentary on the history of restoring Fritz Lang's Metropolis to its near-original running time, TCM aired a separate doc this past Sunday, specifically dealing with the discovery of the rare footage in Argentina, and the historians' efforts to get the Germans to believe they had something of incredible importance.
Metropolis Refound / Metropolis refundada (2010) feels like a treasure hunt wrapped in suspense, drama, tragedy, and humour, and while not currently available on home video, it's worth catching on TCM because the filmmakers also delve into Argentina's own challenges in finding and preserving the country's film heritage.
Sometimes a treasure hunt comes up physically empty, as was the case with the unfinished Third Reich revisionist drama Life Goes On / Das Leben Geht Weiter (1945). The absurd stories and weird dramatic peaks  surrounding the making of this film were beautifully captured in a 2002 documentary.
The discovery of the Argentinian copy undoubtedly spawns speculation of what other previously lost footage or films may exist in vaults, with the top Most Wanted including Lon Chaney's London after Midnight (1927), Orson Welles' uncut The Magnificent Ambersons (1942), and Eric von Stroheims complete Greed (1924) & The Honeymoon (1928).
More recently, 75 films from the teens and twenties were discovered in a New Zealand film vault, among which is an early John Ford film Upstream, from 1927.
.
.
.
Mark R. Hasan, Editor
KQEK.com
Category: Uncategorized