Lassie, the regal collie, may be the best-known dog on an international level, far eclipsing her predecessor Rin Tin Tin, a German Shepherd who similarly enjoyed a career in film (primarily during the silent era), and whose descendents appeared in a radio series, a TV show in the fifties, and whose 'life story' was depicted in the 2007 film Finding Rin Tin Tin.
Lassie excelled in media perhaps because her timing was perfect: Eric Knight's book was published in 1940, adapted into a film three years later, and the devotion between a happy-looking dog (a collie's long jaw and floppy ears make it far film-friendlier than German Shepherds) and a young boy were well-suited for weary international wartime audiences wanting escapist tales where man and beast were supportive of each other to the point of near-death.
Moreover, as evidenced in Lassie's second film (set in Nazi-occupied Norway), German Shepherds were depicted as authority tools of Nazi masters, whereas the British collie came from a stock not refined in the art of crowd control, or hunting down Jews (as dramatized in the terrifying 1949 Polish film, Border Street / Ulica Graniczna).
In Son of Lassie, there's a moment when a Nazi officer confronts the collie outside of a prisoner yard with his trusty German Shepherd; his dog is clearly feared by the inmates, whereas the inmates all reach out to touch Lassie through the barbed wire fencing because of the breed's respected virtue as a loving, loyal friend.
That scene's a stark dramatization of a two breeds that have been worked into very distinct roles in human society, and media-wise, it probably didn't get corrected until (as much as I hate to say it), the TV series The Littlest Hobo (argh) made the German Shepherd a loyal breed instead of a weapon of sorts.
See, collies just don't have the image problem associated with other breeds, and that gave MGM's franchise a lot of life. Warner Home Video's 2-disc set, TCM's Lassie collection, gathers the first 4 films released back in 2004, whereas the other 3 remain unavailable on DVD (although they do air time from time-to-time on TCM).

Film Score Monthly, however, have somewhat bridged the gap with a limited 5-CD set featuring surviving music from the series in the aptly titled Lassie Come Home: The Canine Cinema Collection (1943-1955), goosed with a rare Elmer Bernstein score for the 1955 short film, It's a Dog's Life.
.
Now let's get back to Lassie.
Most of the DVD transfers in the TCM set date from the mid-00's, and while it may seem frivolous to suggest the entire series deserves full HD transfers for loaded Blu-ray discs, it ain't, because certainly with the first two films, the Lassie series represents some of the best outdoor Technicolor cinematography on record, and if you were blown away by The Adventures of Robin Hood (1938), the Lassie series would be equally jaw dropping on BR, since the core sequences in each film involve a search or trek through wild terrain, be it mountains, glaciers (!), or a treacherous swim.
MGM's series entries weren't big budget productions, but their embracive use of splendid locations gave their simple stories of boy / man / girl + loyal dog extra oomph.
None of the DVDs include commentaries, featurettes or interviews (people are aging, some are dying…) but if WHV were to plan a 7-film BR set, it would benefit greatly from input by historians and fans, since the films continue to endure as dog-friendly, family classics. I can't imagine what parents do when they realize their child won't stop crying until they get their own Lassie.
Eeesh.
In any event, I deliberately dove into these family films because I wanted to see if a cynical writer with allergies towards dogs, cats & birds (feathers, people, it's the fine plethora of feathers that itch the nasalium nostrixta) could handle period kid-flicks.
Answer: mostly yeah, but as I said, there are aspects that should keep adults content.
For example, MGM drew from a fine stable of character actors, and the series also functioned as training ground and test projects for up-and-coming talent.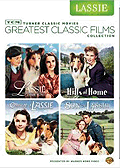 The first film, Lassie Come Home [M] (1943), features a big-eyed Roddy McDowall (thankfully no longer billed under that pretentious banner "Master Roddy McDowall, as done for How Green Was My Valley), and Elizabeth Taylor in her second film.
The sequel, Son of Lassie [M] (1945), features the physically handsome / nasally voiced Peter Lawford; pretty June Lockhart, all bubbly and glowing in her Natalie Kalmus-approved Technicolor Red dress; and pig-tailed Terry Moore (soon to appear in Mighty Joe Young, where she perpetually spouted more somfistakated dialogue like 'Oh Joe! Come on Joe! Hurry Joe!').
I've uploaded reviews of the first two pooch films, and will follow up with not only the rest of the Lassie films in MGM's franchise, but related pooch movies about loyal dogs, because apparently I've lost some of my cynicism for family fodder.
Of course, all it takes is a film starring an ugly child and a dog with grotesque strands of drool (see Turner & Hooch. Go on. Watch the head shaking sequence, and call me wrong), and I'm reset back to Cynic 1.0.
.
.
Mark R. Hasan, Editor
KQEK.com
Category: EDITOR'S BLOG, FILM REVIEWS