This week saw the release of two major Formula One racing films on Blu-ray – Grand Prix (Warner Home Video) and Le Mans (Paramount).
I reviewed Le Mans way back in 2003 for Told You So Productions, a site whose content (mostly mine) was absorbed into what became KQEK.com. The mandate for the now-defunct site was to keep reviews under 500 words, which is why some of the older reviews written between 2001-2005 tended to be much more compact and free of blather.
I'll cover the Le Mans Blu-ray in greater detail shortly, but let's start with Grand Prix [M] (1966), because it's the film that I'd frankly avoided until now because I was concerned its fusion of Grand Hotel-type melodrama would make an otherwise striking racing film interminable.
MGM had repeated the Grand Hotel formula from its 1932 classic into a number of variations, including Weekend at the Waldorf (1945) as well as the sappy adaptation of Arthur Hailey's novel Hotel (1967), and while some could argue the melodrama in Grand Prix isn't unique, screenwriter Robert Alan Aurthur certainly evoked the formula, in which the lives of a handful of leading characters become intermingled with each other, as well as numerous secondary characters.
Arthur, though, used conflicts tailored to racers: their groupies, tired wives, not to mention leggy sports journalists who perhaps used their job to get into the jumpsuits of certain drivers.
The character dramas in Grand Prix make up a third of the film's content; the rest is docu-drama styled moments; and what may be the most beautiful widescreen in-your-face racing footage ever put on film.
Director John Frankenheimer really showed his knack for tackling a complex production by insisting problems be solved in order to put audiences in or alongside the driver's seats of Formula One machines. The visuals, supervised by the great Saul Bass,  are extraordinary, and the sound of roaring engines gives a rush to car enthusiasts who like the sound, feel, and delight of moving fast in vehicles  they control all by themselves.
Released in single camera Cinerama (basically Super Panavision 70mm, exhibited in Cinerama using specially adapted prints for the curved screens). Grand Prix's racing scenes are kinetic, elegant, and erotic because they were designed and executed by people who loved cars in a pre-CGI era.
At 176 mins., Grand Prix is arguably monstrous in length, but more than half of the running time involves some of the most amazing racing sequences committed to film.
I've reviewed the film in detail, and added a link to a rare interview with TVO's Elwy Yost and Saul bass regarding the making of the film. It's online, free for streaming, so check out the film review.
In the coming weeks I'll follow-up with Le Mans and several related racing films to show how different filmmakers at different periods in film history handled the car in motion.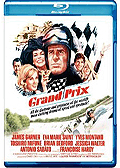 What I do wish is that through the creation and release of these HD masters, the prints used for the Blu-rays are available for rental, because if you have the chance to catch Grand Prix on the big screen, as a car lover, it's your duty to see it.
Anyone at the TIFF Bell Lightbox listening? The 70mm projection system needs some exercise…
.
.
Mark R. Hasan, Editor
KQEK.com
Category: Uncategorized