Some purists believe there's no such thing as a 'colour noir'; film noir, according to their logic, must be in filled with grays because the genre began with starkly photographed black & white ('noir') cinematography.
It's an oversimplification, arguing the visual palette determines the genre, which isn't so; high contrast lighting and compositions are possible in colour and wider film ratios, but in film noir, it's the story and characters that determine the genre.
I tend to argue Leave Her to Heaven [M] (1945) as the best example of early colour noir because it's about bad behaviour, illicit love affairs, murder, and terrible consequences for innocents and wayward souls.
Violent Saturday [M] (1955) fits that formula perfectly because it uses colour to enhance the bleakness of the dusty Arizona environment, widescreen cinematography to emphasize the slowly crumbling stability of the town's social order, and features a great balance of plot, tension, and sleaze designed to tease the censor board's apparatchiks.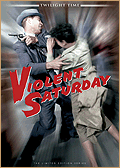 Directed by Richard Fleischer, this tight little gem has a superb cast, featuring Victor Mature, Richard Egan, Stephen McNally, J. Carrol Naish, Lee Marvin (he hates kids), and Ernest Borgnine in the oddest role he could possibly take after starring as a NYC blue collar Joe in Marty (1955).
Twilight Time's DVD also features an isolated score track of Hugo Friedhofer's music, and is the new label's third release, after John Huston's The Kremlin Letter (1970) and Ralph Nelson's Fate is the Hunter (1964) – films for which reviews will be up this week.
The label's titles are only available through Screen Archives Entertainment, and are limited to 3000, but they are commercially produced DVDs, not MOD DVD-Rs.
.
.
Mark R. Hasan, Editor
KQEK.com
Category: Uncategorized