Long before the Airport franchise entrenched the clichés of the air disaster genre from the late sixties to the late seventies, Hollywood had offered up dramas that happened to involve pilots, and in the three releases covered this weekend, we have a differing views on the value of a commercial airline pilot.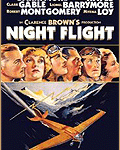 Based on Antoine de Saint-Exupéry's best-selling novel, Night Flight / Vol de nuit,  MGM's Night Flight [M] (Warner Home Video) is erroneously billed as a Grand Hotel-type drama with a stellar cast enacting the struggles of air mail delivery in South America.
Operations manager John Barrymore seems to regard his handful of pilots as children – noble in skill, foolish in vices and human weaknesses – and he's determined to push them to the limit to launch the continent's first overnight air mail service.
Unlike a similar aviation drama, Frank Capra's Dirigible [M[ (1931), MGM's 1933 film is steeped in melodrama and hasn't aged too well, but it's a significant production that weighed some of the controversies surrounding commercial aviation after audiences had become accustomed to seeing pilots on the silver screen fighting forking &  country in WWI dramas, comedic action sequences, and musicals with half-naked women and chirpy singers strapped to biplane wings.
By the early fifties, commercial aviation for passengers on an international scale was dramatized in Twentieth Century-Fox's No Highway in the Sky [M] (1950), a British production about the need to put safety up front instead of money, time schedules, and corporate greed. It's an unusually non-cynical film about one crusading aeronautical engineer (eccentrically played by James Stewart) who's convinced the tail on the plane he's travelling in will break off over the Pacific Ocean, killing everyone.
Not available on DVD, this docu-styled drama junks most of the melodrama larded into Night Flight, and eerily presaged the 1954 disaster of the de Havilland Comet planes which broke up mid-flight due to design flaws.
Lastly, we have Fate is the Hunter [M] (Twilight Time), Fox's 1964 drama that begins after a deadly plane crash has killed all but one. Based on the novel by Ernest K. Gann, Fate feels remarkably contemporary because a good chunk of its narrative is devoted to the procedural details of gathering crash evidence and trying to determine whether the disaster was caused by mechanical malfunction or pilot error.
Seeing the wrecked craft reconstructed on a metal skeleton in a sterile hangar recalls news footage of the Air India bombing; and the heroism of the pilot's wartime flights – cheating death and landing a plane using experience, balls, and professionalism – more immediately recalls the case of Chesley Sullenberg, who ditched his plane in the Hudson River without a single loss of life.
In all three films, the skills of the pilots come into question when a signal is lost, a plane crashes, or a corporation decides to wrap up a disaster by blaming the pilot.
As an airman quips in No Highway in the Sky, "Pilots and desks; dogs and Cats. Natural enemies. They've got one theme song… Pilot's error. Whenever anything goes wrong with their calculations and there's a smash-up: 'pilot's error.'"
Seems  cynicism towards pilots is a good 80 years old.
Coming next: reviews of four video game soundtracks.
Coming soon: a review of John Huston's nasty little Cold War thriller, The Kremlin Letter, also from Twilight Time. The new label just announced pre-order details of their debut Blu-ray release – The Egyptian, the 1954 sunburn saga Marlon Brando managed to weasel out of, but had to make amends to CEO Darryl Zanuck by playing Napoleon in Desiree. The latter film is currently available on DVD (where else?) in Spain, and if timing works out and Canada Post's current strike mess is resolved, I should have reviews of both films, so we can all learn if Marlon made the right choice, selecting a new accent and hairstyle.
Lastly, those who've received their TIFF catalogue for the summer series may have noticed a special section devoted to Montgomery Clift. Between July and August, the TIFF Bell Lightbox will screen prints of Elia Kazan's Wild River (1960), Edward Dmytryk's Raintree County (1957), John Huston's The Misfits (1961), and perhaps my favourite WWII drama, Dmytryk's The Young Lions (1958), featuring a superb Hugo Friedhofer score… and Marlon Brando playing a 'good' Nazi.
The complete list is posted at the TBL website (which still needs more design tweaking. Just saying).
.
.
Mark R. Hasan, Editor
KQEK.com
Category: Uncategorized