Just uploaded are a pair of very good – no, I'd say excellent – Cold War espionage films directed by John Huston. Known for his affinity for losers and crazy dreamers who never manage to reach their ultimate goals (or at least must severely lose a pound of flesh to get past the first border crossing), Huston's later films weren't always box office blockbusters, but for the most part they were interesting artistic ventures made by a big, wiry man with a grand persona.
If you've seen Clint Eastwood's White Hunter, Black Heart (1990) – and you really should if you haven't – it sort of encapsulates the director's odd blend of filmmaking and adventurism. Huston went to Africa to make movies and shoot big game. In White Hunter, he wanted an African elephant; and in Nevada for The Misfits (1961), there was the gambling, and commandeering an over-budget production with three of Hollywood's biggest and most expensive stars.
Filmmaking for Huston always seemed to be about the challenge, and having fun with a good cigar stuck between his grandiose, mischievous smile, or having an awesome drinking buddy like Humphrey Bogart (The African Queen) or Errol Flynn (The Roots of Heaven). One reason Huston didn't get sick during filming in exotic locales is the booze: if you increase the alcohol percentage to borderline toxic, you make it impossible for bugs to survive long enough to infect you. (At least that's the theory which worked with Flynn during the shooting of Roots.)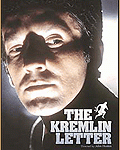 From Twilight Time comes The Kremlin Letter [M] (1970), a forgotten but really well-aged espionage thriller whose tone and meanness I swear were borrowed by John Frankenheimer and David Mamet for Ronin (1999). There's some striking tonal similarities, but Kremlin is a much meaner film about desperate characters sharing pretty dismal futures – hardly elements that would've made the kind of box office hit Huston was hoping for.
The film's been announced for a Region 2 DVD July 25 via Eureka Entertainment, but TT's Region 1 disc (limited to 3000 copies) includes an isolated music track of Robert Drasnin's bleak little score, and is available exclusively from Screen Archives Entertainment.
Those curious about TT's upcoming Blu-ray and DVD editions of The Egyptian (1954) can read a detailed interview with Nick Redman at Blu-ray.com. Apparently the company's licensed 100 films from Fox, and I'm keeping my fingers crossed some of those anamorphic CinemaScope productions out in Spain will finally get their due in North America. There's no reason why The Roots of Heaven (1958) or Inferno (1953) can't be released here. None.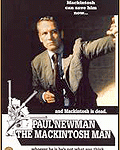 Also reviewed is Huston's second seventies espionage thriller, The MacKintosh Man [M] (1976), starring Paul Newman in a perfectly tailored role of a no-nonsense thief / spy. It as easy for the studio to package a trailer with plenty of money shots and quick quips, but selling the film was clearly tough for Warner Bros., because it moves from one genre to another within its first hour. It's also a gem that deserves a peek, and Warner Home Video released it a few years ago as a standalone edition and in a Paul Newman-themed boxed set.
While we're on the subject of Huston, I should also point out the late August screenings of The Misfits at the TIFF Bell Lightbox. Montgomery Clift, Clark Gable, Marilyn Monroe, Eli Wallach, Kevin McCarthy, Thelma Ritter, Arthur Miller, and Alex North. Not a happy film, considering three of the leads were dead within a few years after the film's release, but it's a striking production that'll look & sound great on the big screen.
Also announced in the TBL's programme book is an upcoming salute to Grace Kelly, featuring Rear Window (1954), To Catch a Thief (1955), and Dial M for Murder (1954). I'm so there, but it would be amazing if the TBL could get their hands on a restored 3D print of Dial M. I've seen a worn print at the old Festival Cinemas' summer 3D series, and even in WobblyVision & browning film stock, it still looked good.
Coming shortly: the saga of Coffin Joe.
.
.
Mark R. Hasan, Editor
KQEK.com
Category: Uncategorized