The TIFF Bell Lightbox has been screening several Norman Jewison films as part of a career retrospective, which I believe began sometime in July, though I can't confirm it's starting date because the TBL's website is still kind of a mess of images, bold headers, vague teaser text and thin rectangles, all courtesy of the first graduate to emerge from The Ontario College of Discombobulated & Impractical Art & Design.
With TIFF approaching in less than 3 weeks, it seems unlikely a proper site overhaul will happen soon – last year's tweak at least displays current daily shows – so maybe the TBL will consider placing a link to an easy-breezy, downloadble version of its mini programme book as a PDF file. Seriously, think about it, because after a year, the site's still a navigable mess.
Moving on.
To some, Norman Jewison is a controversial figure, not because he's raised the ire of rogue Asian turnip wranglers or done something rash (like buying up the patent for drought-resistant kudzu berries), but because he's consistently being lauded as a master filmmaker when his canon features a mixed bag of classics, and not-so-great movies.
The good news? Unlike a Paul Gross production, tax payers didn't fund the duds (in whole, at least), but there is that issue where parts of the Canadian media keep lauding the same filmmakers either because they genuinely love them, or feel the need to boost the same native talent because it's easy.
My take: for Jewison, like any filmmaker, some projectss clicked and some didn't, and in any lengthy career the odds of making a dud or misfire are pretty good. Just count the good and the bad in Sidney Lumet's canon.
Lumet, like Jewison, started in live TV, worked his way up until he moved to feature films, made critical successes during the sixties and early seventies, and began to diverge into other genres which may not have yielded the best results (like The Wiz. And The Wiz. And maybe The Wiz).
NOW Magazine's Norman Wilner opines that Jewison's reliance on A-level actors has become a crutch: talent is strategically used to overshadow flawed scripts, and distract audiences from undercooked scenes or characters – a problem affecting everything after 1985′s Agnes of God.
That could be true, but the ire isn't about Jewison ingratiating himself – ultimately, he just makes movies (and would like to make another, if investors are willing) – but of certain official media factions who feel obliged / are ordered to fawn and vaunt the handful of cultural icons that have achieved great success south of the border and internationally.
It's the media taking on an assumed role of reminding us 'Yes, we have a culture,' and using the same names because they're easy to remember and haven't fallen from grace or died young after making a just two films, like Jean-Claude Lauzon.
There's also the symbiotic relationship between TIFF, Jewison, and his Canadian Film Centre: of course the TBL would launch a Norman Jewison tribute, because his graduates are active in the industry, and he holds a BBQ at his ranch during TIFF for epic schmoozing.
For critics of the current retrospective, here's one positive point: they can't do it again (unless it's some post-mortem thing).
Secondly, by addressing Jewison's canon within the TBL's first year of operation, they appease the narrow-minded media contingent, his ardent fans, and can now focus on other Canadians.
I'm in the process of working on a chapter for a book regarding Canadian horror films, and part of my print resources includes a few guidebooks of native films, many of which I didn't know existed.
We made silents? Yes. We made indie films in Toronto? Yes… kind of. Quebec has a movie industry? Of course it does, snapperhead.
Which is why dealing with Jewison right now is perfect. It paves the way for other filmmaker retros, limited engagements, and screenings of restored & archival prints of our lesser known & forgotten film culture,  good or bad.
The tragedy is if the TBL misses this opportunity, and focuses exclusively on international film culture. We have archives and film preservationists who have things to show and tell. Please give them some due attention.
Back to Jewison.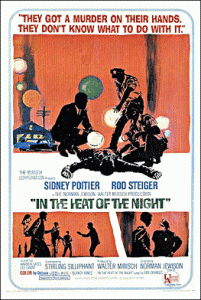 The first of this two-part piece focuses on the film that established his stature in the industry: In the Heat of the Night [M] (1967), which earned a Best Film Oscar, and a best Director nomination.
It's still a solid statement on race relations, and at the end of the review I've added a streaming video link to an interview the late Elwy Yost conducted with Stirling Silliphant, the Oscar-winning screenwriter who adapted John Ball's novel so beautifully for the screen.
The TBL's print used for Sunday's screening was in decent shape, and the house seemed to be almost full, perhaps due to the audience's fondness for the film, a need to see it on the big screen (that's my reason, particularly with Quincy Jones' superb score), or maybe catching the intro with Clement Virgo, one of the CFC's early graduates.
After a few personal thoughts,Virgo soon brought out Jewison himself, and for those unable to attend the screening, I've uploaded an extract from the intro, as a little multimedia bonus.
In Part II, to appear later this week, I'll have a review of The Thomas Crown Affair (1968), which featured his reunion with ace cinematographer Haskell Wexler, and a zippy-trippy jazz score by Michel Legrand.
The screening of this classic happens this Wednesday, 8:45pm, at the TBL.
.
.
Mark R. Hasan, Editor
KQEK.com ( Main Site / Mobile Site / Facebook / Twitter)
Category: EDITOR'S BLOG, FILM MUSIC