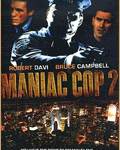 I was extremely surprised to discover William Lustig's sequel to his mighty B-film classic Maniac Cop [M] (1988) boasts even better stunts and montages than the first.
Actually, that's not really fair to the first film, because Maniac Cop 2 [M] (1990) is unique for possessing its own crazy DNA.
MC2 is quite frankly an awesome little B-movie, filled with a marvelous cast of character actors, cameos, and some casting choices that pay off really well in the otherwise less-than satisfying follow-up, Maniac Cop 3: Badge of Silence [M] (1993).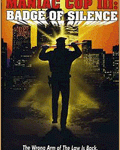 First Look released the two sequels on DVD a few years ago, but the pair is ripe for their own special edition Blu-rays, with commentaries and the usual goodies. I'd frankly love to hear screenwriter Larry Cohen explain his character arcs across the three films; and Lustig talking about casting not one but three actors from the original Die Hard in little memorable roles.
Efforts to remake MC have popped up over the years, including Chris Notarile's 2008 promo short. Should it be remade? NO, because its cast is perfect, the script is smart & snappy, and Lustig's direction is inimitable… and yet plans are underway, with a scrip co-written by Alexandre Aja and Gregory Levasseur, with Franck Khalfoun in the director's chair.
The trio's last theatrical effort was 2007's P2.
Not a good omen.
.
.
Mark R. Hasan, Editor
KQEK.com ( Main Site / Mobile Site )
Category: EDITOR'S BLOG, FILM REVIEWS