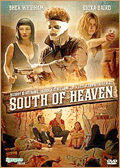 Normally I'd blather a bit about the thematically grouped film reviews that are now live, but I'm coming down with a cold thingy, and until the mega-dosing of Vitamin C & ginseng kick in, I'm condensing two posts into one, and keeping things brief (which may actually please readers wanting less blather, and just the facts).
First up is a trio of horror films:
–Apollo 18 [M] (U.S.: Anchor Bay; Can: Alliance) – a great technical accomplishment, but a fine example of bungled storytelling.
– Bereavement [M] (Anchor Bay): Stevan Mena's follow-up to his slasher debut Malevolence is heavy on mood, but its split storylines make for a schizophrenic movie. At least the HD transfer is downright superb.
–Final Destination 5 [M] (Warner Home Video): the sick & twisted franchise moves on, and patient fans are rewarded with a really fun ride full of outrageously choreographed mayhem. A big plus is the classical film direction, and Brian Tyler's final cue is freaking awesome.
Secondly, desert noir:
–South of Heaven [M] (Synapse Films): I kept setting this one aside due to an assumption it was a minor slasher vehicle. Not so, and fans of pulpy tales with graphic novel sensibilities should give Jonathan Vara's gem a chance. It's a strange hybrid that amazingly works, and Shea Whigham (Lincoln Lawyer, Boardwalk Empire) is amazing to watch as he goes full method on a character that's part noir, part Tex Avery. Shame on me for waiting so long to watch the DVD.
–Delusion [M]: older readers might know I'm referring to Carl Colpaert's nifty noir film, but everyone else will probably chime in with a coordinated 'Huh?' Released on VHS and laserdisc, this lost film deserves a proper rediscovery on Blu. Great cast, cool pacing, and assured direction makes it a shame Colpaert later focused more on producing that directing. Co-star Jennifer Rubin was never better, and the use of Barry Adamson music works swell for this clever little suspense film.
Coming soon: soundtrack reviews, and reviews of Jan Kadar's Lies My Father Told Me (1975) and Adrift (1971).
Hopefully coming soon: better health, because this bouncing negative-positive temperature swing in Toronto is making everyone sick. Dear Mother Nature: Will you please make up your mind this month?
.
.
Mark R. Hasan, Editor
KQEK.com ( Main Site / Mobile Site )
Category: Uncategorized