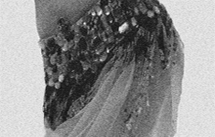 This past Thursday the TIFF Bell Lightbox began their latest series, the much-touted The Poetry of Precision: The Films of Robert Bresson, the first retrospective of France's idiosyncratic director in 15 years, and the offering is every one of his films. (Only his debut, the 1934 comedic short Public Affairs / Les affaires publiques, was unavailable).
The series of 13 films begins with A Man Escaped [M] (1956), his best-known work, and perhaps the prototypical prison escape  drama. Naturally, it's not available on DVD in North America; alongside L'Argent (1983) and Lancelot of the Lake (1974), Escaped was released by New Yorker, but perhaps it may reappear, now that the once-dead label has been resuscitated by new owners.
The bulk of his key work  – Pickpocket (1959), Mouchette (1967), Diary of a Country Priest (1959), Les Dames du Bois de Boulogne (1945), and Au hazard Balthazar (1966) – is out on Criterion, but hefty chunks from his later period remain unavailable on DVD, except in Europe.
These rarities (all part of the retrospective) include Les Anges du peche (1943), Trial of Joan of Arc (1962), Le Diable probablement (1977), Une femme douce (1969), and Four Nights of a Dreamer (1971), so there's plenty of material to choose from.
Those who missed 3D screenings of Steven Spielberg's The Adventures of Tintin can find it at the Fox Theatre this week, whereas folks wanting some documentary substance can find Black History Month selections at the NFB's Mediatheque, and a mix of subjects at The Projection Booth, including Nostalgia for the Light, My Perestroika, and The Ponzi Scheme.
The Toronto Underground Cinema's website's been rather blank for a while, but in addition to NOW listings, the cinema's Twitter feed does provide screening updates, such as this weekend's I Hate Toronto: A Love Story, which a number of critics seem to really hate.
Adam Neremberg made a mediocre documentary of the country's alleged (confirmed?) hate-on for the city, but apparently there's no venal tirade within Daniel Wilson's film about why a character loathes T.O. Not that it isn't possible to hate T.O., aka Hogtown, aka The Big Smoke, given we have the country's dumbest mayor who doesn't believe when council votes, he has to abide by its wishes.
His pre-vote plea to council is filled with repeated keywords and irony (listen for the broad chuckles when he mentions the word "politics" around the midpoint), but I've never understood why anyone believed his TTC plan was viable. The same inarticulate demeanor, repeated keywords, and vaguely sketched funding plan was evident in his 2010 pre-election YouTube video, so we shouldn't be surprised by his moronic claim about an 'irrelevant' council vote this past week.
'Nuff said.
Finally, George Lucas has re-released The Phantom Menace in 3D, as promised years ago when he felt his one-franchise legacy needed another retooling for the masses.
Does anyone care? Will anyone care when it debuts on Blu-ray in a BR-3D, BR, DVD, Digital Copy package at Xmas? Will anyone go see the second dull entry in 2013 when he repeats the release scheme? Will the world finally acknowledge the prequels are terribly boring films made by a merchandising licensor who was never a good director in the first place?
Here's some irony: whereas Disney uses their 'vault' as an excuse to re-release moratorium-shackled films every few years, Lucas just rolls them out in differently treated media formats. The difference: Disney makes new movies once in a while and restores them (minus insensitive ethnic minutia), whereas George indulges in the ongoing practice of Lucasification, changing things because he can.
The prequels are still the same terrible films with bad dialogue, bulbous hairstyles & rattails, and wonky casting. Here's a posit: if everyone who wanted the films on Blu bought them in 2011, and George has no intention of releasing the original 70s / 80s entries in their non-Lucasified versions, what in the hell is he going to sell at Xmas 2012 and 2013?
Even the Bond franchise needed a reboot (Casino Royale) after a gradual downward spiral, but the promise of a new entry every few years at least offers whatever creative team in charge of Bond film "X" an opportunity to overhaul and improve things now and then (badly needed this time, after the ineptly edited & paced Quantum of Solace).
George just has the same 6 films, and way too much time to fiddle when he could try a new franchise. How about The Adventures of Space Potato: Paprika Mash-Up 2045? There's no way he can Lucasify potatoes 10 years down the line.
So far, the reviews seem to chime the same tune: even in 3D, the flaws that upset critics and sensible fans alike are still very much present (except this very odd one). What is it the ING barker says on TV? Save your money?
.
.
Mark R. Hasan, Editor
KQEK.com ( Main Site / Mobile Site )
Category: EDITOR'S BLOG, FILM REVIEWS