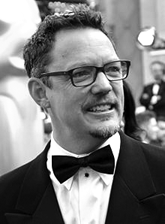 After his physically expressive role in Scream (1996), Matthew Lillard became typecast as the weird, somewhat emotionally spastic teen / youth / young man for about 10 years, never really enjoying a leading man status because he played the tall, thin oddballs with loud-mouths so well.
SLC Punk! [M] (1998) showed he could carry a film, but punk rocker / anarchist Stevo was still a physically broad character, making it easy for other filmmakers to exploit Lillard's dynamic performance style in horror and  suspense films.
The big surprise for his fans was his straight role as a bigamist in The Descendants [M] (2011) – essentially an exotic road movie with a tragic element designed to manipulate populist audiences. George Clooney was fine as the emotionally suppressed father, but Lillard stood out for giving a cliched, remorseless jerk a faint sense of humanity.
Reportedly the desire to direct a film version of K.L. Going's Fat Kid Rules the World [M] (2012) had been on the burner for about 9 years, and the finished film gets its Canadian run as part of the TIFF Next Wave Film Festival (May 10-12), covering films about and made by youths.
Toronto premieres include 17 Girls (2011) and Themba: A Boy Called Hope (2010); Canadian premieres include Cupid's Balls (2011), Fat Kid Rules the World (2012), Mosquita Y Madri (2012), and Re:Generation Music Project (2012); and the International Premiere of This Space Available (2011).
.
.
Mark R. Hasan, Editor
KQEK.com ( Main Site / Mobile Site )
Category: EDITOR'S BLOG, FILM REVIEWS