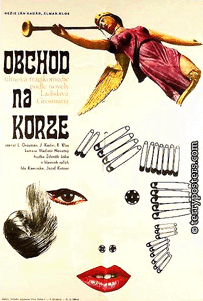 It's Day 2 of my short-short vacation, and I just uploaded reviews for a pair of Jan Kadar films as a sly tie-in to Criterion's Czech New Wave boxed set (which I'll cover in due time).
I recently reviewed Kadar's classic CanCon film Lies My Father Told Me [M] (1975), and the follow-up reviews are for his Oscar-winning The Shop on Main Street / Obchod na korze [M] (1965), and the little-known, barely-seen, long-forgotten mini-masterpiece Adrift / Desire Called Anada / Touha zvaná Anada [M] (1971)
Shop is already available from Criterion (and in need of a proper HD transfer / special edition), whereas Adrift is, well, gone, except for a copy chopped into 10 parts on YouTube. I suggest you A) read my review; B) watch the online version, as it sports English subtitles; and C) write Criterion in the hope they may give it their time and care.
I hope to have another review up within the next day or two, depending on time. Technically I'm on vacation, but I've also been shooting footage for a pair of short films – one arty-farty, the other a vignette of sorts. All I'll say at this point is I love my Canon SX-220 HS camera, and my Sony ICD-SX712 audio recorder; they're a filmmaking set that fits into two wittle pockets.
That is all.
.
.
Mark R. Hasan, Editor
KQEK.com ( Main Site / Mobile Site )
Category: EDITOR'S BLOG, FILM REVIEWS