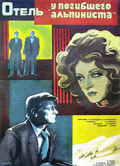 Back in January of 2012, the TIFF Bell Lightbox ran a wonderful series called Attack the Bloc: Cold War Science Fiction Behind the Iron Curtain, and I've uploaded a pair of reviews for two films screened roughly between January thru March.
Dead Mountainner's Hotel / 'Hukkunud Alpinisti' hotell [M] (1979) is a very, very strange puzzle film / sci-fi flick that's set in an isolated locale where a murder investigation takes a strange turn.
Even if the whole story doesn't quite jibe, there's this amazingly strange atmosphere, a beautiful look that isn't garish seventies, and a great prog-rock score by Sven Grunberg that's all warm & fuzzy analogue.
Test Pilot Pirxa / Test pilota Pirxa [M] (1979) is equally compelling, but more for the intellectual arguments extrapolated from Stanislaw Lem's short story about a space commander charged with testing his human and robotic crew. Problem: he's never told who's inhuman, so the blind test can truly challenge the validity of using invulnerable robots for dangerous missions.
Lem's big claim to fame is author of Solaris, later turned into a classic sci-fi / psychology meditation in 1972 by Andrei Tarkovsky, and both films share the author's interest in brainy arguments instead of action-oriented sequences. Problem: Pirxa's director felt the need to do some action-styled goosing, and it makes the film a fairly wonky production.
Both Pirxa and Hotel share similarities with the film version of Blade Runner (1982), and it's possible director Ridley Scott and the film's writers were exposed and softly influenced by either film. It's also a funny coincidence the two Estonian films were produced in the same year, but they also reveal the unique films the state was making for export to other Soviet markets.
Both films are accessible on YouTube, but what's really needed are respective Blu-ray Special Editions, supported by material that details the inventive, odd little films made within the East Bloc's most prolific film production hub.
Didn't know Estonia was so involved? Neither did I, which is why more of its product should be shared with the world market.
.
.
Mark R. Hasan, Editor
KQEK.com ( Main Site / Mobile Site )
Category: Uncategorized