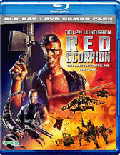 The best performance Dolph Lundgren ever gave was as Jesus in one of the worst Canadian films ever made, Johnny Moronic – whoops, my bad: Johnny Mnemonic (1995) – which I paid to see in Sony SDDS, and friends still blame me for suggesting. (It was chosen based on CONSENSUS.)
Novice director Robert Longo was reportedly so intimidated with the assignment that he was hesitant to utter both "action" and "cut" and left the nerve-racking chore to someone else. Perhaps by leaving Dolph alone, the actor was able to create his own creepy version of a fubared Jesus wannabe. He was the best thing in the movie, but it's not his best film, given he's appeared in 50+ productions of varying artistic merit.
Like Arnold Schwarzenegger, Lundgren was often cast for his physique, and it was tough to find roles where he could test his acting chops. Arnie tried and failed miserably with End of Days (itself a colossal dud, and arguably the end of director Peter Hyams' position as an A-level director), whereas Lundgren had Jill the Ripper / aka Jill Rips, Anthony Hickox' dreadful serial killer thriller. Each actor tried to find range in the thriller genre, but the roles weren't customized to their range with just a little bit of wiggle room.
On the other hand, Red Scorpion [M] (1988) was Lundgren's third major film and second starring role (after Rocky IV and Masters of the Universe), and it's a solid fit since it delivers action (via real stunts) and has an effective vision quest thread where Lundgren and his character loosen up. It's also an ongoing storyline where the actor shows off some of the charisma that's often subdued because of his tough guy roles.
Synapse's Blu-ray release features RS in a swanky special edition, and the BR + DVD combo also forms a nice tribute to Lundgren as film action star. He's still making films, albeit most tend to go / are aimed at the direct to video market, but the surprise success of Sylvester Stallone's The Expendibles franchise has brought renewed interest in Lundgren's canon, which is frankly kind of fun.
My favourite guilty pleasure: Dark Angel, released in cinemas here as I Come in Peace (1990). The title is derived from a greeting the alien killer utters before sucking the life out of humans, but Lundgren has the best moment when he replies "You go in pieces!" prior to blowing the creature into bits & pieces.
Anchor Bay put the film out on VHS, and there was also a Lumivision laserdisc in 1990, but it's another orphan film in need of a home on Blu. (Well, not quite.)
.
.
Mark R. Hasan, Editor
KQEK.com ( Main Site / Mobile Site )
Category: Uncategorized