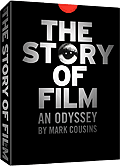 Mark Cousins' monster book The Story of Film: An Odyssey [M] (Alliance), was translated to film by the director himself after a team of dedicated producers were determined to transform the author's personal tribute into an accessible documentary that would ideally push viewers to seek out and nourish their Hollywoodized palettes.
It's a demanding series in terms of its length, but worth the slog, and rather rewarding when someone already versed and / or familiar with film history (me, you) is provoked to investigate previously unfamiliar filmmakers, innovations, and movements.
Cousins' series is structured like an essay, and his revisitation of themes and events is rather masterful, considering the volume of material that's traced across international boundaries, cultures, and re-appropriations by subsequent filmmakers.
The series premiered at TIFF, and was screened in sets of two episodes at the Bloor Cinema last fall, but the DVD will allow viewers to sample and plow through the series at their own pace… one chunky hour at a time.
.
.
Mark R. Hasan, Editor
KQEK.com ( Main Site / Mobile Site )
Category: Uncategorized