Yup, they're finally up – a film review of Brandon Cronenberg's Antiviral [M], released on a nice Blu-ray from Alliance / EOne; and a soundtrack review [M] of E.C. Woodley's excellent score, released as a digital album from Lakeshore Records. Both reviews are tied to my recent podcast with Woodley (available at Big Head Amusements and Sound Cloud), and the shorter soundtrack review that appeared in the July issue of Rue Morgue magazine.
Why the fat delay between posts?
Filming a short on the Sony AVC-3250 camera took up some valuable weekend time (actually about two), and I also wrote several draft film reviews which will actually be up very shortly (like, within the next few hours). I've also got a nice podcast with Green Lantern composer Frederik Wiedmann, and soundtrack reviews.
Way back when I started KQEK.com, I opted to not use a standard database because of cost, and the easiest method was to plop each review into one HTML page. Simple, but I knew years later the end result would be a lot of work cutting & pasting text into fields that really should've been automated from the start. The plus side is each page can be customized, but those changes could also have been done with custom style sheets applied to unique reviews.
The mobile site, however, is much easier to maintain, loads fast, and has far less display problems on smart phones and mobile devices. I'm happy the main site with all its weird graphics loads fast on tablets, but the mobile site is cleaner, easier to read, and reflects the desire to simplify a site's look instead of create pages with 'needy' design features.
So my quandary is what to do, since posting reviews on two sites – main & mobile – is becoming a bigger time hog, especially where there are other endeavors requiring time.
One of those endeavors is BSV 1172, my experimental doc shot at a local video store in the fall of 2012 which has to be completed for the 2014 Hot Docs Film Festival, and I don't think my position is much different from most filmmakers: you have the day gig that keeps the roof over the head; some assorted contributions that are manageable, but there are those personal projects which some might brand as vanity works, but are necessary to gain attention of peers.
To get grant funding for a somewhat arty style of filmmaking, you need prior works screened in festivals with peer judging, public performances, and signs of activity – basically, another career while managing one or three already.
Many of my colleagues at the same day gig are in the same situation, and it doesn't soften the nerves when the job market is saturated with competitors better qualified than you. It doesn't mean they're better – you might be the better fit – but it's jaw-dropping when a straightforward admin position at a media company is inundated with 500 resumes. Pretty sure a good percentage of those wannabe candidates have done a lot to distinguish themselves in every media format into which they can plug-in their C.V.'s, yet they know their glow gets fuzzy when it's placed beside other 150 ex-media administrators floating around after their media firms were downsized, absorbed by another firm, or simply shut down.
My quandary is how does a 45 year old film school grad, journalist, web publisher, podcaster, filmmaker, video post-production guy, audio restoration dude, interviewer, customer service associate for a dying media format (home video), film researcher, festival consultant, and film & film music writer basically say 'Hey – I can do some fairly unique stuff!' when the positions are few?
There are some things happening this fall which might help in the long run rather than immediately, because as we all know, things either stay quiet for a while, or things percolate in clusters. You just hope the timing will be right, and you'll make the most prudent instinctive choice (which sounds, and probably is, a contradiction).
An opportunity in early October will provide some unique 'skills testing' (more on that in due time), and I'll have both a fancy-schmantzy logo for Big Head Amusement shortly, followed by a teaser trailer for BSV 1172, because I think the timing this year is right, especially for docs dealing with the once profitable realm of home video sales & rentals.
The first doc of note addressing this peculiar amalgam of industry and nostalgia is Rewind This! which played at SXSW this past March in Austin, Texas. Directed by Josh Johnson, the doc focuses on the home video industry via VHS, that big bulky tape format which became a boon to studios after they realized killing the rental industry was a form of moronic suicide.
At present, there are no Toronto screening dates (if you're in Seattle, it's apparently screening with a 35mm of David Cronenberg's Videodrome), but the doc will be available on iTunes for a 2 week period starting August 27th in all English speaking countries, and Sept. 10th it'll be available from other outlets including Amazon Instant Video and YouTube. Visit the official film site for more info.
The second doc of note is Plastic Movies Rewound: The Story of the 80's Home Video Boom, a 6-part (SIX PART!) series due 2014 from director Mike Malloy, who recently reached his Kickstarter goal to complete the series and has a great (and lengthy) trailer online. If I had some extra dough, I would've contributed to this really impressive series.
Where would BSV 1172 fit into this sudden interest in what journalists keep revisiting in contrived think pieces as a dying / soon-to-be-dead industry?
Well, it's an arty, experimental exploration of the physical environment of a large indie video store – Bay Street Video – filmed using obsolete tube cameras with visual effects bounced between chunky analogue gear and digital effects. It's also a doc around which there'll be related featurettes on the gear, with a certain fetishistic affection. Not techno-porn, but images that convey the bulk, messy cables, chunky buttons & knobs, and unique look of analogue gear that's still available on places like Ebay for reasonable and sometimes insane prices.
Besides a focus on specific cameras, mixers, and chunky black boxes with singular purposes (image enhancers, amplifiers, video processors, etc.), there's also a planned short on the CED video format (briefly seen in Malloy's teaser video, and also seen in various YouTube videos) which for some early store chains formed part of their regular rental catalogue.
The enemy is bad time management, so let the race to reach those goals begin in earnest.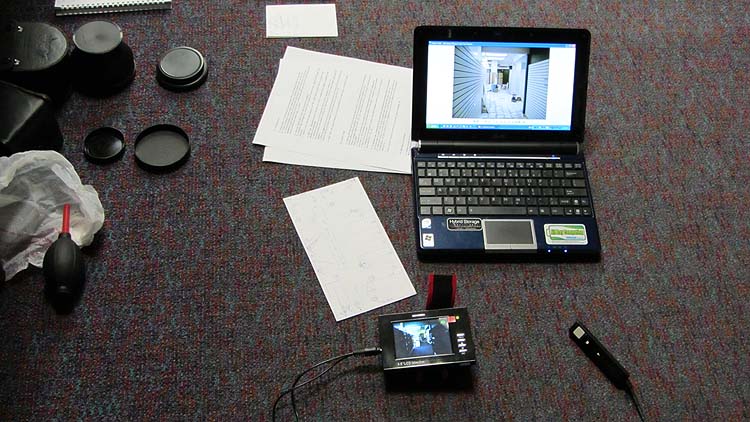 Coming next: reviews of Twilight Time's Blu-ray edition of George Stevens' The Only Game in Town (1971) with Liz Taylor and Warren Beatty, and a related review – the little-seen Stanley Donen oddity Staircase (1969), starring Richard Burton and Rex Harrison as bickering lovers in swinging sixties London, with music by Dudley Moore.
.
.
.
Mark R. Hasan, Editor
KQEK.com ( Main Site / Mobile Site )
Category: EDITOR'S BLOG, FILM MUSIC, FILM REVIEWS