With still much work to do on my doc, I've put it on pause, choosing to meet another festival's late January deadline, and have a small break, finishing up on several reviews and themed updates.
In this entry, the focus is on charismatic historical figures in older times whose behaviour proved to be an offense to the common populace, if not fellow rulers and nobles.
The first up is a German mini-series that begs not only a proper remastering, but a Blu-ray release because it's an outstanding production that harkens back to the classic historical epics which used to appear on network television. Fans of Peter the Great (1986) and Marco Polo (1982) know what I'm talking about: great cast, stellar production values, and no CGI – just location shooting with period details, rich scores, cinematography, and a striking international cast.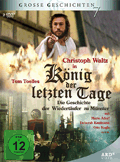 The aforementioned mini-series certainly had those qualities, but Konig der letzen Tage, a 1993 dramatization of the Munster Rebellion, was perhaps too regional for most of Europe, and especially America. Never heard of it? Don't blame yourself. Why should you care? Because it boasts a mesmerizing performance by Christoph Waltz, playing Anabaptist leader and self-appointed 'king' John of Leiden. The German R2 2-DVD set sadly has no English subtitles, but even a conversational comprehension of German will make this gem a treat. The stellar score was composed by Dracula's Wojciech Kilar, and is just as memorable for its themes, choral sections, and heavy strings. Great drama from Germany that no Waltz admirer should be without.
Next is Nicholas and Alexandra (1971), Sam Spiegel's last great epic production directed by Franklin Schaffner, and released on Blu by Twilight Time. Flawed, perhaps overlong, and more intimate than Spiegel's Lawrence of Arabia (1962) production, but worth a peek, especially since Sony's HD transfer's a stunner. The doomed Romanovs are the focus as Russia's last tsar lives out his final years blundering through historic missteps before meeting the executioner's bullet in 1918.
Lastly, there's The Sack of Rome (1992), perhaps better known as Oro or Zoloto, a rare Italian-Russian co-production about a naïve painter / sculptor who refuses to believe German thugs could ever harm him and his teenage aides. Like Konig, there is frank nudity and violence, but an extra sleaze factor as pretty Vittoria Belvedere is often nude in the presence of co-stars Franco Nero and Aleksandr Abdulov. Uneven and flawed, but an unusual production from One 7 Movies.
.
.
Mark R. Hasan, Editor
KQEK.com ( Main Site / Mobile Site )
Category: Uncategorized