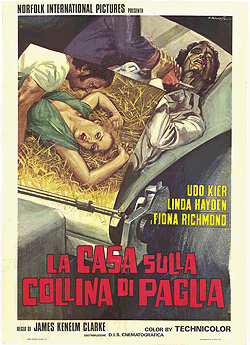 .A few weeks ago I reviewed the 2005 documentary Ban the Sadist Videos! which comes as a bonus DVD with the first 3000 copies of Severin's 3-disc set of House on Straw Hill, aka Exposé (1976).
Just uploaded is a review of the headlining film which was among the original 70 films banned by the BBFC and retained in its smaller secondary tally of 30 films deemed too horrific, immoral, breasty-bloody, whatever by the Britain's censor board.
I've also added two related reviews: from the KQEK.com archives, Joseph Losey's 1962 drama Eva / aka Eve (Kino), because it shares a similar premise of a celebrated artist (a writer) destroyed by a dark event and a scheming hottie. (It's one of my early reviews, originally written for the long-defunct site Told You So, which specialized in assessing a release's special features rather than the film itself. I'll revisit the film in the future, and revise what's plainly a mediocre review.)
The second review is of Elio Petri's A Quiet Place in the Country / Un tranquillo posto di campagna, in which a feted painter retires to a remote country villa to find inspiration during a creative dry spell, but may be going nuts due to supernatural forces.
Petri's film is borderline horror-psychological thriller, and although it's available as a MGM MOD title in the U.S. and on DVD in Europe, this gem in experimental filmmaking is screaming for a proper Blu-ray issue. Maybe Criterion already has the film in its sights, since it released Petri's Investigation of a Citizen Above Suspicion, his 1970 Oscar-winning drama. Petri died way too young, and it's a shame many of his films remain unavailable on Blu in North America, save for Citizen, and his best-known work, the cheeky sci-fi classic The 10th Victim (1965), from Blue Underground.
I've repositioned my podcast with Rewind This! director Josh Johnson for the middle of February, as it'll be tied to some related reviews and will headline the redesigned KQEK.com.
Coming next: Jobs (2013), and the 2008 documentary Welcome to Macintosh.
Cheers,
.
.
Mark R. Hasan, Editor
KQEK.com ( Main Site / Mobile Site )
Category: Uncategorized