As you'll notice, the look of Mondomark.com is a little different – there'll be some tweaks over the next few days, and after the new KQEK.com is finished, this site (Mondomark.com) will be more of a professional database of my writing & film work, plus samples of the audio editing and restoration skills available for hire. (Before & after samples will be added to demonstrate how a raw podcast is refined into a roughly 15 minute production.)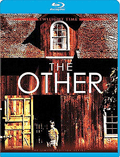 Today's upload features a pair of reviews that originally appeared in the December issue of Rue Morgue magazine. The first is Robert Mulligan's grim film version of Tom Tryon's creepy novel The Other (1971) from Twilight Time, which I've augmented with The Cardinal (1963), a lavish Otto Preminger film which Warner Home Video released in an excellent 2-disc edition back in 2003. I reviewed the set for the now-defunct Told You So site, so there's a heavy slant on the extras rather than film proper. Hopefully WHV will revisit the film on Blu-ray some day.
The second film via Mondo Macabro is Jess Franco's How to Seduce a Virgin  / Plaisir à trois (1974) which is a surprisingly solid erotic drama with a slight horror element . It's not hard to see where the film's headed, but this is an effective drama with decent dialogue, gorgeous colour cinematography, and trippy lounge music. It's not often I like Franco's films, but this one's a proper – well made, solid story, and a good mix if rudeness, wrong behaviour, sleaze, and characters in need of therapy (although given the lead character's already had some, any further couch sittings would be for naught).
Coming next: Doc Martin Seasons 5 + 6.
Cheers,
Mark R. Hasan, Editor
KQEK.com ( Main Site / Mobile Site )
Category: Uncategorized