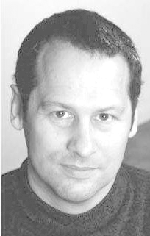 There was a two-year period where in my car I had a tape containing Cliff Martinez's scores for Traffic, Solaris [M], and Wicker Park (and weirdly, the suite of themes from Shane Carruth's Primer, because the cues stylistically fit the mix).
During that chunk of time it wasn't unusual to have the tape sitting in the deck, playing again, and again, and again.
A friend (fellow vowel brother MRI) once remarked how he too would listen to Martinez's music, but both of us were pretty fixed on Solaris as being the most haunting, addictive, soothing, and hypnotic.
It's the best thing Martinez, Steven Soderbergh's main composer since Sex, Lies, and Videotape, has written, and you just wish someone would let him write more sci-fi / dramatically wrenching music, because his combination of electronic, glass, metal, and orchestral instruments is second to none.
That's why I jumped at the chance to interview Martinez regarding his latest releases which, alongside Lincoln Lawyer [M], form part of a rare cosmic occurrence: 3 Martinez scores in one year.
The interview [M] is up, as are reviews of his latest albums: Soderbergh's Contagion [M] (WaterTower Music), and Drive [M] (Lakeshore Records) for director Nicolas Winding Refn.
As for the question that's on your mind – Why would you listen to an album over and over and over again? – the answer is simple. Well, sort of. I rarely loop an album unless I'm writing a script or am too lazy to get up and grab another CD. In the case of Solaris, two words: Try it.
Why? Because the first listen leaves questions. The second offers a few musical resolutions you missed, the third affects you more dramatically than the other two, and every other spin the CD gets is just aural celestial gravy.
.
.
Mark R. Hasan, Editor
KQEK.com ( Main Site / Mobile Site )
Category: Uncategorized