It's an urban legend where, at the end of WWII, the BBC's return to television broadcasting began with the announcer saying 'Now, where did we last leave off?'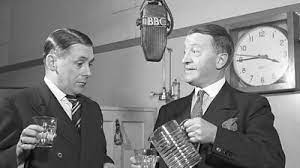 Setting aside fudged facts and a fanciful droll scenario, BBC television, which began broadcasting in 1930, did suspend its service in 1939, and after they returned to the airwaves in 1946, the network gradually beefed up its content and expanded it's physical footprint by moving to a new production location, and splintering the network into two halves – BBC One, and BBC Two. (Cue Austin Powers's BBC tune.)
There is a reason for recounting this facile snapshot of 'interrupted programming.' While there was no epic pandemic-spawned disaster during the past 15-odd months in Toronto (our healthcare system has taken a dreadful hit, though), COVID did inadvertently suspend my writing activities – all of them.  A Momentary Pause turned into a Deliberate Break, with No Scheduled Resumption of Regular Activities. This bolting down the Pause button for so long also included halting podcasts with composers, artists, and other creatives.
The Ooomph just wasn't there.
Which isn't to say returning to any programming has been easy; it should be after a break, but the best visual metaphor of losing one's Ooomph is a 1955 Bugs Bunny cartoon, "Knight-Mare Hare." If you grew up watching The Bugs Bunny-Road Runner Hour (from 'Wahnah Brothas-Seven Ahtz') and "remembah" that specific cartoon, there is a moment when Bugs pops out from his perfectly round rabbit hole with a huge bottle of seltzer ('listen to it fizz') and sprays a frothy geyser into the mouth of a stalking, pouncing, flippity-floppity, fire-breathing dragon.
After a few burps of severely anemic flames, the green reptile sputters grey clouds of nothing. It then whines ("Wah Wee Wah-Wah") like a rusty screen door from 1955, and thumpity-flippity-hoppity-floops away in a case of profound dejection.
Let's leave it at this: a writing & podcasting & all-around creative break which ultimately had no planned return to regular programming; and after the pandemic's severity started to ebb, I received a jab of mental anemia for an unnecessarily prolonged period, with unwanted ripple effects.
So – moving on, the first review of 2023 is tied to this past National Canadian Film Day (a nation-wide festivity which I covered in pre-pandemic 2016 and 2017). Back in April, Don McKellar's Last Night (1998) was screened at the Revue Cinema to a fairly packed house, and included a brief set up from its star / writer / director pre-taped from Thailand.
As I point out in the review, McKellar's feature film debut as full auteur has been out of print on DVD for some time, and one hopes that, like Patricia Rozema's I've Heard the Mermaids Singing (1987), it too will return to circulation, specifically on physical media, preferably Blu-ray, with contextual extras from its maker, and some of the very recognizable faces in the excellent cast – Sandra Oh, David Cronenberg, Sarah Polley, Callum Keith Rennie, and Tracy Wright.
I'll have another review later next week, but I'd also like to mention a media channel that's in the works – BHA+ – which will routinely cover vintage video gear in reviews, test footage, lots of how-to featurettes, and eventually morph into a Patreon channel in the fall. I'll have further details both here and at the channel's main website, Big Head Amusements, after I've overhauled the site and related social media platforms.
Thanks for reading, and nice to see you again, too.
Mark R. Hasan, Editor
KQEK.com
Category: EDITOR'S BLOG