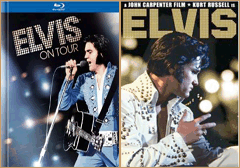 My pop culture /cultural familiarity with Elvis Presley is very minimal.
I was still playing with metal Hot Wheels cars (metal, people, not the el cheapo plastic ones) when he died in 1977. I have a vague memory of the TV concert that aired that year, and I was struck by how big and sweaty the old man was, except he wasn't old at all – certainly not at 42.
Dying at 42 is just ridiculous, particularly when you've got rockers in their sixties still making decent music, and furthering their skills in different idioms.
Soon after the King's death came his televised funeral, the tribute specials on TV, myriad news items, and the lengthy saga of whether Dr. Thomas Noguchi was responsible for Elvis' death by prescribing a steady amount of prescription baddies.
Basically a lot of negative stuff, as well as images that really said nothing of the man's talent and impact on popular music (although I do recall seeing record store windows in Germany filled with various Elvis albums in 1978, which I guess were testaments to the lengthy mourning process fans were experiencing a year after his death).
Nevertheless, the fact you could buy velvet Elvis portraits, lampshades, and busts in Niagara Falls (the Canadian side) in the late eighties wasn't flattering; having nothing to do with the Falls, they were perhaps symbolic of what happens when the artist is cheapened by disposable crap in a place with which he had no connection, at least personally.
The only positive impression I had of the King was in the 1979 mini-series starring Kurt Russell, who managed to portray a hungry creative force who had to break into the world arena to further his art, as well as a delight in sharing his work with people – something that got lost when he started to make too many movies and stepped away from his first calling.
It seems to happen to singers and even composers once in a while – dabbling in film, doing well, but then losing interest or getting trapped in outright crap – but Elvis was a unique case because of that long, kind of brutal contract that mandated he deliver a lot of movies when inside he probably lost touch with his musical mojo. He could still sing in the films, but the songs weren't inspiring, and one suspects his broadest fans knew the music was going downhill in these cheap movies, until it seems once his last film was done – Change of Habit (released in 1969) – he said 'The hell with this,' and did the '68 Comeback Special and the '69 Vegas sets.
By 1969, the mojo was back, and for a while he satisfied fans with new material, new performances of classic material, as well as songs reaching back to the gospel music of his youth.
Elvis on Tour (Warner Home Video – DVD and Blu-ray) provides a sampling of his peak seventies years before the decline, and while the fancy split-screen concert film / documentary has some flaws, it shows the King as a great showman, and as an artist who loved making music. The joy is so evident in his interactions with the singers, the choir, the orchestra, and his band, and Elvis perhaps provided a template that showed how other musicians could make music again after their own meteoric rise, and the popularity began to wane when new styles and new faces were pushed up front by the labels.
Elvis reinvented himself, and that's quite an accomplishment when other artists became one-hit wonders, and ephemeral pop culture icons specific to a few years in music history. If you can survive and evolve over 20+ years and remain valid, that demands some respect.
Elvis' life has been portrayed in dramas several times – all on TV – and yet none has been wholly satisfying, but the first was the two-part drama Elvis, which starred Russell, and marked the first of four teamings with directed by John Carpenter.
That teleplay's absence on DVD probably stemmed from apathy, music rights, and maybe getting pushed aside every time a new dramatization was about to be broadcast, like the 2005 mini-series with Jonathan Rhys Meyers. Rather than cash-in and release the damned thing, the '79 production stayed in the vaults, and whether its release was planned all along for the King's 75th birthday or was just plain good timing, Shout! Factory's release is overall pretty pleasing.
Not present: the commentary that should've been recorded between Carpenter and Russell, but the teleplay's out there now on DVD (and Blu-ray in the U.K.), although there are a few issues with the transfer and running time, which I've addressed by comparing the original broadcast version with the new DVD.
Check out the reviews for more details…
.
.
.
Mark R. Hasan, Editor
KQEK.com
Category: FILM REVIEWS