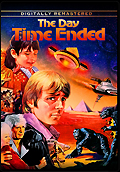 Film: Weak
Transfer:  Very Good
Extras: Very Good
Label:  Full Moon Features
Region: 0 (NTSC)
Released:  November 2020
Genre:  Science-Fiction
Synopsis: A family's nearly torn apart when elements from a time warp slice into their lives!
Special Features:  Audio Commentary by visual effects artists Wayne Schmidt and Paul Gentry / Photo Gallery / Theatrical Trailer / Full Moon Trailer Gallery.
---
Review:
Although a fair share of the images within the original movie poster do appear within The Day Time Ended, this clumsily designed sci-fi is hardly the cult classic fans of producer Charles Band and director John 'Bud' Cardos expected (nor a disaster film, either, as the title might suggest).
It's only through the hugely informative commentary track by co-writer / visual effects Wayne Schmidt and co-producer / visual effects / dumped cinematographer Paul Gentry that the incoherent and narrative ineptitude of Day come to light: based on a story by Steve Neill, the script follows the fantastical events in which an extended family becomes trapped in a multi-dimensional, desert-laden Bermuda Triangle, and finds aliens, dinosaurs, and other oddities drifting towards and into their isolated homestead. The separated family members are ultimately reunited in a fused time warped plateau / dimension / whatever that's (presumably) light years ahead of 1979. The abrupt finale seemingly sets up the characters for a potential sequel, or TV series that for obvious reasons never materialized, but in fairness, could have – perhaps along the lines of the short-lived 1977 TV series The Fantastic Journey, which followed a quartet of characters trapped in Bermuda Triangle inter-dimensional weirdness.
Cardos, a veteran stuntman and second unit director for Al Adamson (The Female Bunch), had directed the genuine cult classic Kingdom of the Spiders (1977) which starred William Shatner, and he replaced Tobe Hooper on the ill-fated The Dark (1979) before he was brought onto Day. According to Schmidt and Gentry, the script (with contributions by J. Larry Carroll, and Tourist Trap's David Schmoeller) lost dialogue and scenes which explained the aliens & creatures. Band insisted on shooting in 'scope for the European market, and the greater reliance on post-produced visual effects turned the production into a messy endeavour for the crew.
Additionally, early into filming, Gentry was replaced by cinematographer John Morrill, who'd shot Cardos' aforementioned films, in addition to L. Q. Jones' classic A Boy and His Dog (1975). Morrill's exteriors for Day are quite lovely, but visually the film is quite static with just a handful of camera movement – a hint that Cardos was disinterested in the material and perhaps bored in crafting any tension for the 2.35:1 scope ratio, credited in posters as Panavision.
Shorn of its supposedly coherent explanatory material, Day beings with Grant (Dallas' Jim Davis, in his final feature film) driving with son-in-law Richard (Chris Mitchum) to LAX to pick up the former's wife Ana (fifties icon and Oscar winning actress Dorothy Malone), daughter Beth (Marcy Lafferty, aka Mrs. William Shatner), and grandkids Steve (Scott Kolden) and Jenny (Natasha Ryan, the screaming child from Kingdom of the Spiders).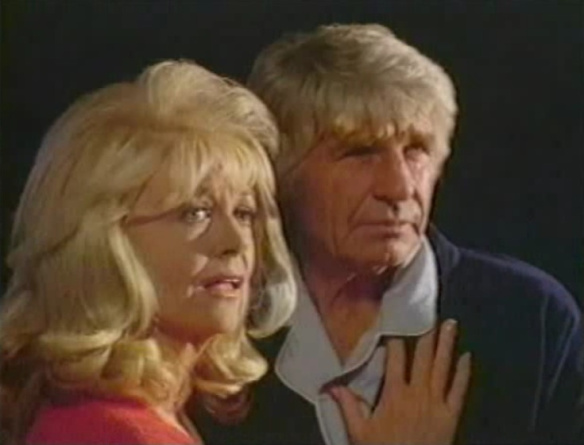 The group head to their freshly built hexagonal home, which includes a stable for horses plus a new pony for Jenny. No sooner do they settle in does Jenny encounter a strange green pyramid which briefly snags her into another dimension, but like much of the subsequent weirdness, these oddities feel like non sequiturs; during an otherwise peaceful post-dinner stroll, Grant and Ana are fearfully threatened by swirling alien light blobs, but their fear magically evaporates precisely at bedtime.
The lack of any lasting menace is slightly counter-weighed by an early sense that Jenny is the target of alien interlopers. That fear of her being snatched does evoke a little bit of "Little Girl Lost," the classic episode of the Twilight Zone (which also inspired Poltergeist, the Steven Spielberg-Tobe Hooper directed inter-dimensional shocker), but the sudden appearance of a friendly playful alien, an alien craft that incinerates fire logs and burns holes in doors, wrestling dinosaurs that just appear / vanish, and a green pyramid that alternates in size all fail to gel into anything coherent.
Dad Richard (Mitchum) pops in & out of the picture through some cross-cutting of scenes at his office and a hurried drive to the homestead, but he's the film's most redundant character. Richard is missing for most of the family's conflicts, and his scenes don't add anything to the drama. Day could've / should've been about a divorcee or widow resettling her family at her parents farm, and leaping from one emotional trauma to another, before the family reassembles in a new world, strengthened by surviving alien and near-death experiences, and ready for new (mis)adventures.
When the film was initially assembled by Charles Band's frequent editor Ted Nicolaou, Day ran short, so a nonsensical, quasi-explanatory prologue running 4.5 mins. was added, along with End Credits that drag on for over 3 mins. Shaved of these two indulgences, Day's padded running time becomes just 72 mins. of non-drama.
So why the interest in such a flawed film?
The film's effects were handled by different teams, many of whom would soon become top professionals in their craft, including Gentry (RoboCop 2, The Fifth Element, TV's Roswell), matte artist Jim Danforth (Prince of Darkness, Flatliners, Robot Wars), Lyle Conway (The Blob, Where the Wild Things Are), Peter Kuran (The Thing, RoboCop, Starship Troopers), and stop-motion whiz David Allen (The Howling, Willow, Freaked).
And as discontinuous as the sequences are, there's some really intriguing visual concepts which manage to transcend Day's very thin budget. The blobs of light – very much evoking Spielberg's Close Encounters of the Third Kind (1977) – are still pretty slick, as are the swirling light waves and evocative sound effects which are part of the vortex that snatches the homestead and its inhabitants before they're dropped into another time period (or something like that).
Full Moon Features released a 40th Anniversary Edition of Day on DVD and Blu-ray, both of which are available from Full Moon's website, and Schmidt and Gentry's delicate fixes to the film's imperfect effects will no doubt look sharper in HD.
The pair do address the issue of Lucasian revisionism – another valid critique – but with no negative at hand, the pair used Shout Factory's transfer from a print found in Australia to adjust film grain within effects shots, and the colour timing which fixes glaring seams between the composited layers and matte lines.
The unaltered transfer is presumably untouched on Shout's MST3000 release of the film (Season 12, Ep. 4), and although the new Day edition is in 'scope, the print is less than perfect. Wear marks at reel changes become more obvious into the drama, and whether it's due to the timing or colour fading, the reds are very low at times, and the colour palette is more soft pastel than crisp & definitive. However, Rusty Lipscomb's surprisingly meticulous art direction emphasizes earth tones, and with reds fairly rare within the house and costumes, it allows the visual effects, especially the green 'alien lights' to glow.
This marks the first release in which the colours and effects are timed the way the effects supervisors intended before a rushed post-production took over, but the two glaring gaffes cherished by Day's fans remain intact – the furry mic boom that pops into frame when Richard's first seen in his office, and the blue desert sky peeking through the hexagonal house's doorway, because the set lacked a roof.
Those familiar with Richard Band's score will be pleasantly surprised to hear it's in true stereo. Whether done by Full Moon or Shout, it seems the original music & effects stems where remixed with the music score tapes for occasionally effective stereo surround effects (passing car, the vortex swirl), but the dialogue is sometimes a bit too low, especially in the ridiculously overlong prologue. The original mix was reportedly mono, and some of the music taken from the prickly mono End Credits stems appears under the DVD's visual effects behind-the-scenes montage, which assembles rare stills of the various models.
Unsurprisingly, the theatrical trailer is terrible – Compass International Films, who produced & released John Carpenter's Halloween (1978), had no idea how to sell this PG-fitted mess, and probably relied on the poster and home video art to tease viewers.
Postscript
Veteran character actor Jim Davis would soon achieve a career peak as Jock Ewing, the no-bullshit patriarch of TV's mega-hit series Dallas in 1978, before passing away in 1981 at the age of 71.
Dorothy Malone would appear in miscellaneous TV movies (including Peyton Place: The Next Generation, the final teleplay in the TV franchise). She also appeared in an episode of The Littlest Hobo (Didn't every aging Hollywood star?), and the short-lived, half-hour soap opera High Hopes (1978), another Toronto-shot CanCon production which, unlike Hobo, has vanished from circulation after its original 6 month run.
Child actress Natasha Ryan's career included a 2 year run on the daytime soap Days of Our Lives (1976-1978), but she's best know for the Emmy-awarded mini-series Sybil (1976), Kingdom of the Spiders (1977), The Amityville Horror (1979), and the mean-spirited supernatural thriller The Entity (1982). After the comedy Going Berserk (1983), Ryan retired from acting, done with playing daughters entangled in otherworldly menaces.
After Day, Scott Kolden switched from acting to sound mixing & editing, working steadily in film and TV series, including 24 (on which Paul Gentry also worked as visual effects supervisor).
Perhaps the most intriguing footnote is the current attempt to complete David Allen's The Primevals, which he was working on concurrently and after Day up until 1994, but remained unfinished after his death in 1999. A fundraising campaign seeks to complete the production.
An interesting footnote to the production is future The Hitcher (1986) director Robert Harmon credited as Stills Photographer, and Joel (son of Jerry) Goldsmith as sound recordist; Goldsmith also co-composed Laserblast (1978) with Richard Band.
John Bud Cardos' solo directorial filmography includes The Red, White, and Black (1970), Drag Racer (1972), Kingdom of the Spiders (1977), The Dark (1979), The Day Time Ended (1979), Night Shadows (1984), Skeleton Coast (1988), Outlaw of Gor (1988), Act of Piracy (1988), and the documentary Legends of the West (1992).
© 2021 Mark R. Hasan
---
---
External References:
Editor's Blog — IMDB  —  Soundtrack Album — Composer Filmography
 
Vendor Search Links:
Amazon Canada
—  Amazon USA
—  Amazon UK
---
Category: Blu-ray / DVD Film Review