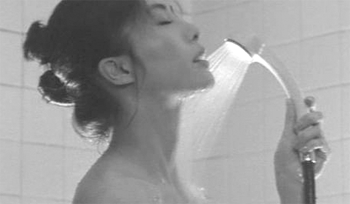 Instructors new and old get little respect in Nikkatsu's latest pair of pedagogical sermons on ill behaviour and 'self-cleansing,' and the level of wrongness is much higher here than in previous installments.
Well, maybe it's all the same, since there's a revolving series of basic story elements which the Roman Porno writers re-purposed far too many times to count. Perhaps that's why it's tough to recall the full scope of any specific entry – only moments of wrongness stand out, if not sequences, or unique actors among the 10+ films.
Impulse Pictures / Synapse Films' latest sadistic duo is Female Teacher: Hunting / Female Teacher 11 / Onna kyôshi-gari [M], and Female Teacher: In Front of the Students / Onna kyôshi: Seito no me no maede [M].
Both hail from 1982, and perhaps as the studio's output delved into more extreme material, this might be a good time to add a contextual review of Nikkatsu's most prolific filmmakers, Masaru Konuma. 47 movies in 18 years, and up to anno 2000, he was still making smut. Konuma's biggest international hit is probably Wife to be Sacrificed (1974), which KimStim reissued with a doc on the director back in 2007.
Titled Sadistic and Masochistic [M] (2000), the wobbly but important film was made by Hideo Nakata (Ringu), who began his career as an assistant director at Nikkatsu. Nakata's access to and friendships with former colleagues brings up lots of ridiculous anecdotes, but this isn't the definitive documentary on Japan's Roman Porno cinema cycle. That may belong to Yves Montmayeur's Pinku Eiga: Inside the Please Dome of Japanese Erotic Cinema, which has yet to receive a home video release (at least in North America).
The Roman Porno could be seen as a variant of western porn's 'golden age' during the seventies, but I think that's too much of a simplification, because as long as Nikkatsu's filmmakers adhered to a handful of strict studio guidelines, they could use the sets, props, and behind-the-camera talent pool (editors, costume designers, set decorators, cinematographers, composers)  who used to make straight films.
Nikkatsu was a major studio, and with leeway given to obedient directors and writers, they could craft (somewhat) intelligible dramas while paying due to the studio's specific demands. That yielded a much broader and richer scope of sexploitation films, which makes the Roman Porno series perhaps more transgressive; just as Roger Corman's pioneering work (and those of his contemporaries) have been feted by indie DVD labels, there's much in common between the American drive-in fodder designed to titillate, excite, and sate jaded, fickle audiences, and Japan's pink cinema of the seventies and early eighties.
The chief differences, however, involve mandatory sex scenes, and bizarre concepts neither Hollywood's most extreme filmmakers of the era, nor its porn makers, would've attempted.
.
.
Mark R. Hasan, Editor
KQEK.com ( Main Site / Mobile Site )
Category: EDITOR'S BLOG, FILM REVIEWS