Most franchise characters live within a customized world that suits their needs, tests their limits, and usually brings them full circle to their comfort zone, perhaps a little wiser after each adventure.
With James Bond, for example, the franchise screenwriters went from adapting whole novels to using just the novel titles and a hint of whatever script idea lay within, and when the literary sources ran out, they crafted new ones, often as greatest hits for fans.
For the character of Die Hard's John McClane, the screenwriters went further. An original script was hastily written for the second movie; an unrelated script was reworked into a third Die Hard installment; and an original was written for the fourth and final (so far) film, riffing off the main character's age, experience, and steeped cynicism.
The circumstances that enabled Lassie to survive through films and a TV series are really unique because it seemed MGM was aware, perhaps based on prior pooch characters such as Rin Tin Tin, that there can only be so many variations on Lost Dog Coming Home adventures before things become stale, and audiences move on to the next cute animal.
Whereas the first movie, Lassie Come Home [M] (1943), was based on Eric Knight's book, the next two films – Son of Lassie [M] (1942) and Courage of Lassie [M] (1946) – not only put the character in a contemporary setting (getting affected by the events of WWII), but added a son (Laddie) in the former, and a Lassie-like character named Bill (and Duke by soldiers) in the latter.
As long as it looked and sounded and behaved like the same noble collie, all was good. But MGM and producer Robert Sisk must have realized they needed a shelf of story options, so their literary department retained short stories and novels wherein a dog either existed, or could be woven into tales of a decent character beating the odds.
In Hills of Home [M] (1948), for example, Ian Maclaren's short story of a village doctor in turn of the century Scotland is goosed with Lassie helping the humanitarian save lives. In the Sun Comes Up [M] (1949), MGM had Yearling novelist Marjorie Kinnan Rawlings write an original story of an opera singer who overcomes tragedy with the support of her dog – but it also marks the first time Lassie wasn't directly relevant in every major scene.
For Challenge to Lassie [M] (1949), Eleanor Atkinson's 1912 novel Greyfriars Bobby was upgraded, replacing her titular character's breed of a Skye Terrier to a devoted collie, and with The Painted Hills [M] (1951), MGM repurposed Alexander Hull's novel Shep of The Painted Hills, keeping the breed, but changing the dog's name.
There were probably many dog tales in print during the forties and fifties, but it is remarkable how Lassie wasn't just a star, but a brand name, capable of sustaining itself in stories set in different time periods, countries, global crises, and local tales of woe. The anchor point was Lassie, as played by Pal, a brilliantly trained dog with emotive eyes and sensitive gestures that guaranteed audience sympathy, whether Lassie was trying to cross rapids, avoid destruction by court order, or was used by evil Nazis to identify her master in Norway.
As a character, Lassie traveled far and wide before settling into a radio show (1947-1950) and popular TV series (1954-1973), and it's during her tenure on the idiot box that Lassie's writers could relax, and flitter between reusable story templates – a tactic that served other animal series well, particularly The Littlest Hobo (1963-1965, and 1979-1985), adapted from a 1958 film.
Lassie did move back to the theatrical realm in 1994 and 2005, but MGM's films are fascinating artifacts of a studio keeping a franchise going during WWII, and the postwar era, exploiting their property in what were then the three most impressionable media streams: film, radio, and television, with spin-off tales in literary and graphic form.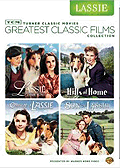 Warner Home Video released the first 4 films in a 2-disc set under the TCM banner, and while all of the MGM films have appeared on VHS, the remaining 4 titles aren't available on DVD, except for the odd public domain disc. (The final film in the series is also available at archive.org.)
I've said before that the lot ought to be remastered in HD from the best surviving elements because as Technicolor productions, they're exemplary for the use of indoor and outdoor cinematography. Mountains served as major locations in the first four films, and even the more studio-bound period installments featured the same blazing use of Technicolor film stock.
There are enough global fans out there to warrant a restoration, and once the films have been transferred to HD, it's done; the franchise can enjoy new life in theatrical reissues for family matinees, and is ready for HD broadcasts – all of it sustaining the character in the consumer's consciousness as The Number One Canine, and ensuring future efforts to restart the franchise are absorbed by new and old fans alike. Besides, 2013 will mark the 70th anniversary of Lassie's big screen debut, so let's get the ball rolling.
Film Score Monthly recently issued a boxed set of scores from the MGM series, and having gone through the movies, it's easy to understand why getting the music out there was such a labour of love for the set's producers. Sure, they love the central character, but certainly in the 6th and 7th films, the music by a young Andre Previn is superb. Composed when he was around 18, it's easy to see why Previn shot up fast as one of the studio's top composers, handling prestige pictures for a good 10 years.
The rest of the scores were written by a mix of newcomers and veterans, and the reliance on montages gave them long sequences to develop themes and rich, dramatic variations. Pity few of the original score recordings survive as music-only elements, but the studio put a long of care into the franchise during its 8-year run.
For prior blogs in the Dog Tales series, read Part I and Part II.
.
.
Mark R. Hasan, Editor
KQEK.com
Category: EDITOR'S BLOG, FILM REVIEWS