On to the next set of reviews: two opposing genres made in 1993 that seemed designed as a quiet farewell to fans accustomed to Tom Hanks' light / goofy comedic style, and an intro to his Serious Side.
Sleepless in Seattle [M] is a good riff on an older classic weepie, the 1957 Cary Grant-Deborah Kerr tear-jerker An Affair to Remember, and the years have been quite kind to the film, proving its DNA was packed together tightly in spite of writer / director Nora Ephron's sister Delia swooping in for vital dialogue rewrites. Hanks is a widower with a kid ambitious to get his dad a new mom, and Meg Ryan the girl who must decide whether to marry an allergic nice guy or go for the more buoyant nice guy.
The film has a few moments of genuine sentimentality that augers the preposterous acceptance of a child wholly fine with replacing a dead parent with a new one. This may sound cynical, but whether it's the kid of a widower or divorced dad, there's little reality in accepting a foreign entity into a shattered family unit so soon after a shakeup. Time and a few other things help in the healing, but nothing happens so fast and efficiently as in the movies.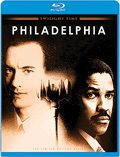 Philadelphia [M] gave Hanks a deserved Oscar win for his engrossing performance, but I'd argue part of his win comes from his eyes, which director Jonathan Demme exploits so well with huge close-ups. They eyes don't lie, and Hanks is wholly convincing as a man on the right path, even though he may never see the end result.
I've also pointed out any pertinent differences between the older Sony DVD editions and the Twilight Time Blu-ray editions which are well-stocked with extras.
Tomorrow I'll upload a set of soundtrack reviews to animated series. These were intended to be tied to a pair of composer podcasts, but since my voice is shot, I can't record the intros / outros, and have to squeeze in some rest so this bug is identified, classified as an alien entity, and eradicated by the good bugs. That's at least what I hope happens.
Man, I want a juicy steak with Greek potatoes and spinach salad & feta garnish… but I'm stuck with oatmeal. Again.
.
.
.
Mark R. Hasan, Editor
KQEK.com ( Main Site / Mobile Site )
Category: Uncategorized