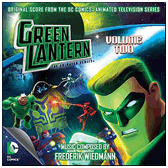 Just uploaded is my podcast interview with composer Frederik Wiedmann regarding his latest release on CD, Green Lantern: The Animated Series, Vol. 2 [M], the second album from La-La Land Records.
When I last interviewed Wiedmann in 2009 [M], he'd just completed the slasher film The Hills Run Red, a genre for which his knack for blending orchestral and processed electronic sounds is well-suited. Green Lantern, however, has given the composer a prime opportunity to write heroic thematic material for orchestra, and you'll find short clips of his fine work in the podcast.
Coming next: a review of two films starring one of Britain's biggest starts in the 1930s, Jesse Matthews – Climbing High (1938), Carol Reed's British hybrid of the American screwball comedy, newly released by VCI; and the wrongly fogotten drama Friday the Thirteen (1933).
Coming right after: a podcast interview with John Piscitello, composer of the documentary No Place on Earth (2012).
.
.
.
Mark R. Hasan, Editor
KQEK.com ( Main Site / Mobile Site )
Category: Uncategorized