.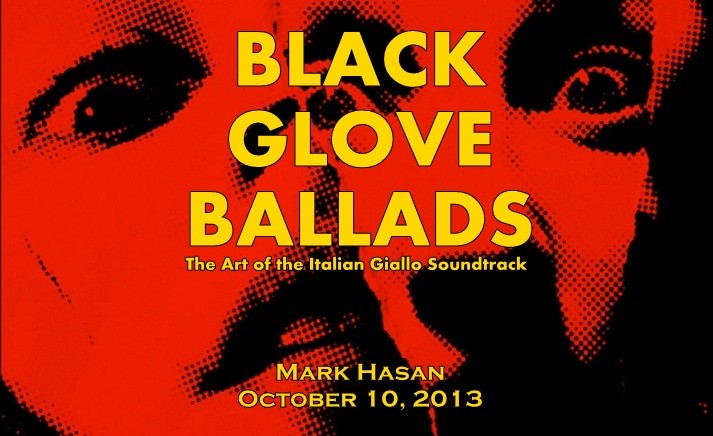 Now in its second year, curators Paul Corupe and Andrea Subissati have assembled another set of lectures for their Black Museum series, and among the esteemed guests is, er, me!
Held at The Big Picture Cinemas (formerly The Projection Booth) at 1035 Gerard Street East, the first of five has already taken place – Jame Love's Arcane Arcade: The History of Horror in Video Games (Sept. 26) – and the remaining are as follows, Thursdays at 8pm:
Oct. 10 – Black Glove Ballads: The Art of the Italian Giallo Soundtrack (me)
Oct. 24 – Fashioning Fear: A Social History of Halloween Costumes (Alex Kavanagh)
Nov. 7, 2013 – King of the Ring: Stephen King Movie Debate (Tal Zimmerman, Stevem Kostanski, Gary Pullin, Monica S. Kuebler, Less Lee Moore, Shaun Hatton, Alexandra West, and J.M. McNab)
Nov. 21 – Woeful Wombs: Pregnancy and the Horror Film (Kiva Reardon)
I've been hungry to write a book on Dario Argento's use of music in his films for a while, and this first effort to investigate the relationship between music and the montage of violent Italian crime thrillers – the giallo – should be fun.
Expect montages from pivotal works and the music of Carlo Rustichelli, Ennio Morricone, and Goblin, among others, plus some interview clips to support this amazing (and crazy) genre and the superb music crafted by great Italian composers & musicians.
The giallo is a uniquely Italian genre, yet it has tangible roots in Alfred Hitchcock thrillers, Agatha Christie whodunnits and bodycount mysteries, and gothic elements from early 'haunted house' shockers where people lodged in a creepy domicile may well be cadavers by sunrise.
In advance of the lecture, I've uploaded a set of reviews highlighting some of the early shockers which in variable degrees influenced giallo pioneers Mario Bava and Dario Argento:
The first adaptation of Agatha Christie's primordial slasher And Then There Were None [M] (1945), Paul Leni's silent version of The Cat and the Canary [M] (1927), and James Whale's mordant (and very weird) thriller The Old Dark House [M] (1932).
I've also added a review of the el cheapo / Poverty Row / faux thriller The Phantom [M] (1931), plus Michael Powell's The Thief of Bagdad (1940) to the KQEK.com archive because the latter is June Duprez' best-known work after And The There Were None. For some reason this lengthy review of the 2008 Criterion disc was never added to the database, and all  links still referred to a long-dead Music from the Movies entry, where it was first published.
(If there's any connection between Thief and the giallo, it's the blazing Technicolor cinematography and saturated colour lighting which Bava himself applied in fantasy films like Hercules in the Haunted World, and his brilliant giallo Blood and Black Lace.)
More lecture details to come in the following days, plus another entry (with scanned ephemera) in my International Independent Video Store Day nostalgia blog.
Coming next: Sexy Beast on Blu via Twilight Time
.
.
.
Mark R. Hasan, Editor
KQEK.com ( Main Site / Mobile Site )
Category: EDITOR'S BLOG, FILM REVIEWS