.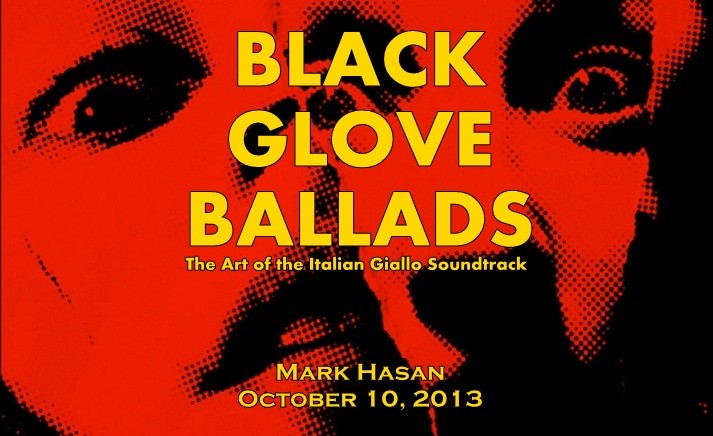 .
Yes, I'm pimping my Black Museum lecture about the dynamic music of Italy's great giallo films from the sixties to the seventies, plus a few exceptions outside of that window. Black Glove Ballads is happening 8pm Thursday Oct. 10th at the Big Picture Cinema, 1035 Gerrard St.
Scores to be touched upon include Carlo Rustichelli's Blood and Black Lace, Stelvio Cipriani's Bay of Blood, Bruno Maderna's Death Laid an Egg, Ennio Morricone's Bird with the Crystal Plumage, and Goblin's Deep Red. There will be film clips and much music, so do come!
As a teaser, I was asked to ring up a Top 5 Italian giallo films on home video for BlogTo, and the tally includes lurid YouTube trailers.
A wave of Mario Bava films have recently been released on DVD and Blu-ray by KINO in the U.S. and Arrow Video in the U.K., with each label offering their own variety of extras. Come Xmas, I'll have a few reviews, as these will be my Xmas present to myself.
In the interim, those interested in reviews of Bava's giallo films can check out prior reviews at KQEK.com, many of which were released by Anchor Bay as part of their 2007 boxed sets. Before making Blood and Black Lace (1965), Bava directed The Girl Who Knew Too Much (1963), and later on the rather wacky Five Dolls for an August Moon (1970), and the very wet slasher Bay of Blood / aka Twitch of the Death Nerve (1971).
(Bay of Blood was screened at the old Bloor Cinema back in 2007 by Rue Morgue magazine, and the rare event of a projected 35mm Bava film was covered in one of my early blogs, with an interview with RM's key members about how they making it all happen.)
The details of this Thursday's has admittedly taken over this week, but I'll have a few non-giallo reviews up by Wed. evening, after which I'll post some Goblin-related material, since the band is playing this Friday at The Opera House (and I'm so going, especially since an attendee at the New York performance confirmed they not only played some material from Sleepless, but the train assault that opens the film).
.
.
.
Mark R. Hasan, Editor
KQEK.com ( Main Site / Mobile Site )
Category: Uncategorized