Coming home Saturday night, it was raining but not too slippery on the sidewalk – I found the key was to walk slow, steady, and duck-ish to avoid landing on one's fanny during an ice storm.
The first omen of a weird weekend was already there – a guy sitting in his car, engine off, watching Psycho. Why he chose to spend the evening in his car, alone, with Psycho under a hail of freezing rain is a mystery, but it was a portent of that second thing (flooding) anyone in a basement pad fears most: a goddamn power failure.
There were three spikes after 1am, which seemed to coincide with areas farther east that had just snapped off the grid, and maybe around 4am is when my section went dead. I was a third into a banal Nikkatsu flick (for review purposes) when things cut to black, and for the rest of the day there was that faint hope in which maybe, just maybe, this ice storm wouldn't be a biggie.
Not so, because the Danforth is filled with older neighbourhoods and mature trees that become key elements in a perfect storm. You get freezing rain, wires become leaden with ice, and tree limbs snap or contort into bizarre shapes.
Back when I lived in North York, ice storms were a minor thing. We had a sloping driveway which guaranteed an unwanted slip & glide down to the basement door (or garage), but that was it. All lines were buried underground, whereas most lines in & around older parts of Toronto hang between poles and roofs. In the summer, they're conveyances for squirrels and trapeze-agile raccoons, but in winter and on windy days, things can get edgy; I missed getting brained this spring from a falling limb because I chose to blow my nose prior to crossing the street.
Sunday was supposed to be a combined film editing and film reviewing and soundtrack reviewing day, but that sure didn't happen. There's a ridiculous irony in making a living reviewing, making, and selling things made with electricity, and sitting in the dark with not much to do – all while electronic gear stares at out in silence.
Never mind instinctively turning on lights, fans, or the radio; there's the conscious decision to sit in a chair, as you would when the juice was live, but there's merely a black monitor, a silent computer, a dim task list of edits, and a stack of review material that needs coverage.
Oh, and no light. Yes, candles work, but unless you're using beeswax candles, the room becomes paraffin-scented awfully fast. Even with candles, you're aware of how dark and cold a basement pad is, even in daytime. And without an active furnace, the footsteps, voices, and guitar sounds above are a little crisper.
Sunday day was spent sleeping, aided by earplugs; and the evening was divided into a set of tasks which were rewarded by food. Clean up the office area – you get half a stollen cake. Clean up another section – you gt the other half.
Dinner was spinach salad, followed by the zucchini pasta sauce I made and intended to use in conjunction with pasta, but lacking a gas stove, consumed like a thick tomato zucchini soup. Amazingly, the milk was both fine yesterday and this morning, when I had some cereal & chopped apple, but I doubt the sealed bag that's left will be fine. Probably would've made more sense to empty the fridge and place perishables by an open window, since the plunking freezing rain was likely colder.
Toronto Hydro says power may not return in time for Xmas – maybe not until Friday – so I've no idea when I'll be able to upload the reviews sitting on my main computer that needs juice. Until then, here are some snapshots of the ambiance that permeated life 6 feet below ground, and the day after:
.
.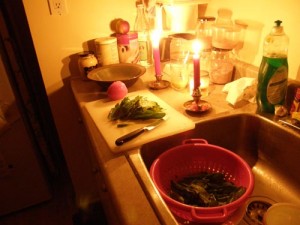 .
.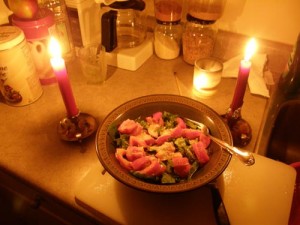 .
And then came the night's entertainment, saved for the last, so as not to waste the netbook's battery on frivolous efforts to contact the outside world in spite of no internet in the whole grid:
.
As for today, here's what lies outside of the dim basement abode, and most certainly for the 300,000 people still without juice:
.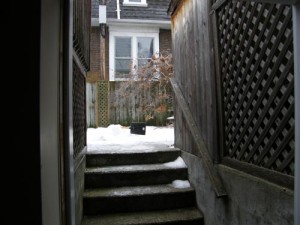 .
.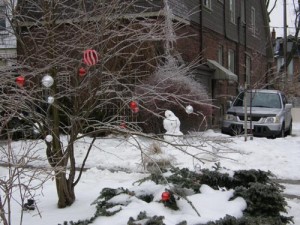 .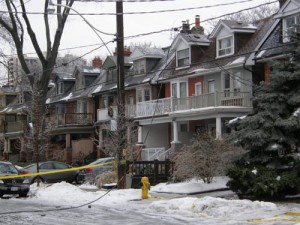 .
.
.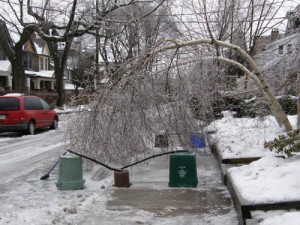 .
.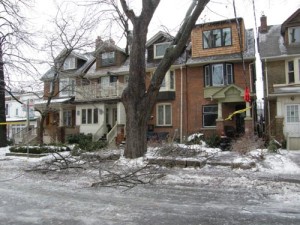 .
.
– 30 –
.
.
.
.
Mark R. Hasan, Editor
KQEK.com ( Main Site / Mobile Site )
Category: EDITOR'S BLOG