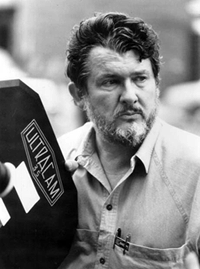 Twilight Time's delivered two classic Walter Hill films that certainly have cult status among fans of the director, their stars, and genre fans, but I can't help feeling not enough people know about these films, if not the first, which marked Hill's debut as director.
It is somewhat sad to compare his latest work, Bullet to the Head (2012), with these perfect gems, but the former does represent Hill to some extent as a hired gun (he wasn't the project's original director), and a film influenced by a more contemporary editing style.
Less fractured and more elegant is Hard Times (1975), where the fight scenes (edited by Ottawa-born Roger Spottiswoode, future director Tomorrow Never Does, arguably the best, if not most dramatically satisfying of the Pierce Brosnan Bond films) are kinetic yet never over-cut. There's such a string reliance and confidence in the cast, the cinematographer, and the editor that there's no need to over-compensate with frilly cutaways, especially when no one can balk at the reality of Charles Bronson, then in his 50s, looking amazing.
Hill's second film is more known now because of its supposedly partial inspiration to Nicolas Winding Refn's Drive (2011), but The Driver (1978) is more than a cult movie – it's one of the best car chase films ever made, with every aspect of formal narrative storytelling stripped down to its absolute elements. In the hands of a master, the results are still inspiring, which is why nothing can touch The Driver, and why no one must ever remake this film.
Both films are available in really nice Blu-ray editions sporting isolated scores, although those wanting more of Michael Small's music for The Driver ought to check out Kritzerland's 20disc set which also features music from Black Widow (1987) and The Star Chamber (1983). Small was one of the 70s greatest and most forgotten composers. If you can only choose one score to sample, go for Klute (1971).
.
* * *
.
And speaking of car chases, yesterday marked the 78th birthday of William Friedkin, director of that other amazing car chase in the classic The French Connection (1971), as well as the most deadly vehicular crossing on film – a beat-up old transport truck on a ramshackle bridge going wooden rung by wooden across a hurling river during what looks like a tropical typhoon in Sorcerer (1977).
As Friedkin explains in this L.A. Times interview, the film's ownership and distribution rights have been settled, the movie's slated for a theatrical, and then it finally hits home video.
First wish: it hits Toronto and plays for a week.
Second wish: maybe there's a n expanded soundtrack of Tangerine Dream's appropriately weird score, with more of those atmospheric cuts they composed based on discussions rather than images because the director was stuck in the jungle making his dream project as its budget went a little higher than expected.
.
.
.
Mark R. Hasan, Editor
KQEK.com
Category: EDITOR'S BLOG, FILM REVIEWS